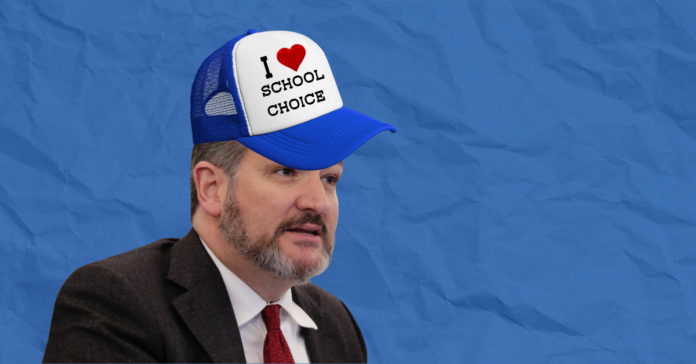 With the dust finally settled around the property tax debate and the impeachment trial of Attorney General Ken Paxton imminent, it is almost certain Governor Greg Abbott will call a special legislative session to push for school vouchers. He has a new ally in the endeavor, Senator Ted Cruz.
"What I'm trying to do is help change the calculus," Cruz said in a recent appearance. "Because the challenge in Texas has not been partisan, really. It's been more geographical. Which has been that, look, we've got a lot of rural communities. I love rural communities, but a lot of rural Republicans have been nervous about school choice. That's been the political impediment. Because typically the rural county has been the largest employer, elected Republicans have been nervous about taking on the school district. What I'm trying to do is change the calculus so that when you have elected officials looking at it they say, 'I don't really have Cruz ruin my race. Maybe it would just be a lot simpler to do the right thing.'"
"School choice" is the preferred term Republicans use for a program that uses taxpayer money to reimburse residents for sending their children to expensive private, mostly religious schools, that are free from many of the discrimination controls that govern public schools. The private school in Houston where Cruz sends his own children has a marked anti-racist stance, but historically private schools in Texas boomed largely because they were able to avoid desegregation. Such campuses are also not required to admit LGBT or disabled students.
Cruz plans to tour rural Texas promoting school vouchers, but there is reason to doubt this will actually help Governor Greg Abbott's cause. Nearly all the Texas Republicans that Cruz endorsed in 2022 lost. Of the 24 races he backed, only nine won. His job approval rating in Texas currently stands at just 45 percent. The once rising star of the Republican Party is finding it harder and harder to win hearts and minds, particularly after his near defeat by Beto O'Rourke in 2018.
The senator is right, though, about rural Republicans resisting the call for vouchers. While the plan easily passed the Texas Senate over Democratic objections, it has not found much purchase in the Texas House. A comfortable margin of rural Republicans joined with Democrats to block funding for the voucher program.
Abbott and allies have been working hard to win over those Republicans, but with little success. An attempt to give rural schools a two-year stipend for lost students went nowhere. Several PACs have sent out mailing campaigns threatening to primary Republicans who oppose the vouchers, much the same way Cruz is promising to get involved in a negative way if the rural Republicans don't change course.
As Cruz says, the local school is often the largest employer in rural communities as well as a major social hub. Between steady work and high school sports, many communities rely on public schools to function. Money drained from public schools and put in the pockets of mostly wealthy urban and suburban religious schools will hurt them far more than it will larger, city-based districts.
Rural Republicans know that, despite Cruz's threats.