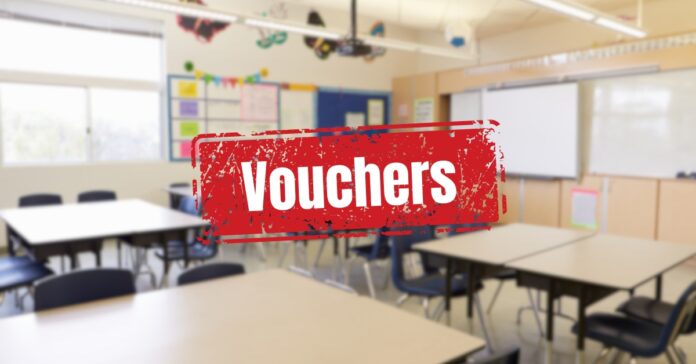 The Texas Senate approved a private school voucher proposal on Thursday, initiating what is likely to be a tense negotiation process with Governor Greg Abbott and the Texas House.
The Senate's bill, which passed with a vote of 18 to 13, proposes providing parents with $8,000 to send their children to private schools. This funding can be allocated for purposes such as tuition, transportation, tutoring, uniforms, or other education-related expenses. This marks the first voucher bill to pass during the special legislative session that commenced on Monday afternoon.
Senator Brandon Creighton, a Conroe Republican and the bill's sponsor, vigorously defended it against hours of questioning on Thursday from Democrats and some rural Republicans, whose constituents have limited private school options.
Creighton claimed, "This bill is not a mandate where someone is disenfranchised if there's not a private school option in their area. The moms and dads will seek the best education opportunities for their child and zip code will not hold them back from doing so, I guarantee you."
For the bill to become law, it requires approval from both Abbott and the Texas House, where Democrats and rural Republicans have traditionally opposed voucher programs.
Abbott, a third-term Republican, has indicated he would back primary challengers against GOP members who do not support the voucher program with universal eligibility.
The Senate's program would initially be funded with $500 million over the next two years, sufficient to cover approximately 60,000 students after accounting for administrative fees. Each student's funding would be held in what advocates call an education savings account.
Spots would be allocated through a lottery system, with 40 percent reserved for students who attended public school last year or are just commencing their education and qualify for free or reduced lunch. Additionally, 30 percent would be set aside for public school students from middle-income families, 20 percent for special education students from public schools, and the remaining 10 percent for all other students, including those already enrolled in private schools.
According to state-level data, in states with similar programs, the majority of students receiving vouchers were already attending private schools.
The bill was amended on the Senate floor to allow home schooled students to access a more limited amount of funds for curricula, with access available through the final 10 percent category of the lottery. This addresses a previous exclusion in bills that have passed through the Senate.
However, the prospects of the Senate measure gaining approval in the House in its current form seem slim.
House Speaker Dade Phelan stated this week that the chamber would be open to a voucher program, but only if it is coupled with a significant increase in public school funding.
Abbott did not include school funding in the special session agenda, although the Senate has pushed for it nonetheless.
Negotiating a voucher bill will be a delicate process, needing to strike a balance broad enough to satisfy Abbott yet limited enough to address concerns from rural House Republicans who fear it could divert funds from their public school districts, which often serve as major employers and community centers. Stronger accountability measures may be required to gain the support of these rural members, but doing so could potentially jeopardize the backing of private schools and religious groups that initially advocated for the bill.
Phelan indicated earlier in the week that he is in discussions with House members and the governor, expressing confidence in the potential for a mutually agreeable solution.