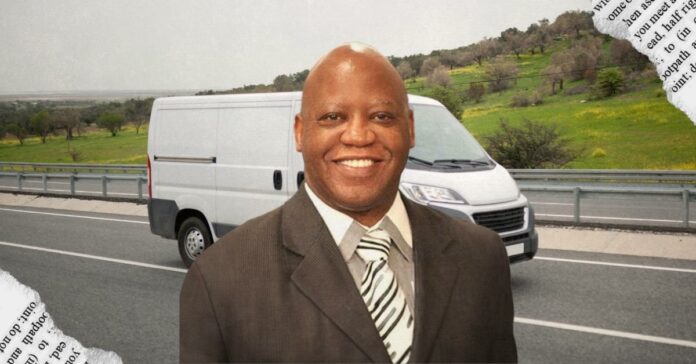 One of the loudest voices advocating for school vouchers in Texas is a pastor who was once arrested for dragging a teen girl under his care behind his van.
Charles Flowers is the senior pastor at the Faith Outreach Center, and founded the Love Demonstrated Ministries Christian boot camp near Corpus Christi. There, he was referred to as commandant. When a 15-year-old girl refused to participate in a running exercise in June 2007, he allegedly pinned her down, tied a rope around her waist, and dragged her on her stomach from the moving van.
Flowers was arrested and brought to trial. There, defense lawyers accused the girl of faking her injuries and lying about the incident. Her mother referred to what the camp did to her daughter as "torture." A mistrial was declared when the jury could not reach a verdict. If Flowers had been convicted, he likely would not have been able to continue teaching children.
Nonetheless, he has repeatedly thrown his hat into the school voucher fight. Under the current proposal, Texas residents would be able to use up to $8,000 of public money for tuition at private schools. In states like Ohio where similar measures have passed, more than 90 percent of this money goes into Christian religious institutes of learning.
Governor Greg Abbott and Lt. Governor Dan Patrick have aggressively tried to recruit Texas clergy to the cause. Abbott went on a tour of the state where he hosted religious educators who openly advocated for using taxpayer money to fund their ministries to students. Response to this call from the governor has been mixed, with groups like the Baptist General Convention of Texas rebuking Abbott for trying to meddle in church affairs to pass his law.
Flowers is not one of those who aims to keep the wall between church and state well supported. He is a dedicated conservative culture warrior who has waded into numerous right-wing attacks on the marginalized. He was one of many voices in 2017 accusing trans people of wanting to stalk children in public bathrooms, claims LGBT people seek "special rights" to persecute Christians, and hosted a screening of the debunked film 2,000 Mules that falsely claims the 2020 Presidential Election was stolen by President Joe Biden.
Last month, Flowers penned a passionate letter of praise for vouchers and a condemnation of clergy who claim it is furthering the cause of Christian Nationalism. He cited Florida as an example of school voucher success.
Which is hardly surprising since a Florida private school receiving taxpayer money outright banned LGBT students. Flowers's prime example of a winning school is Icon Prep in Tampa, and he particularly praises their scholarship program. That program has a non-discrimination policy that pointedly leaves out LGBT students. For all that Flowers sings the virtues of how these schools have helped poor students of color, he seems far less interested in the welfare of those same students if they are LGBT.
To sum up: a major voice in Texas clergy supporting Abbott and Patrick's voucher push was arrested for torturing a student under his care. He has spent much of his time since then trying to strip rights from LGBT Texans and applauding schools in Florida that get taxpayer money while banning LGBT students from attending, even with voucher money.