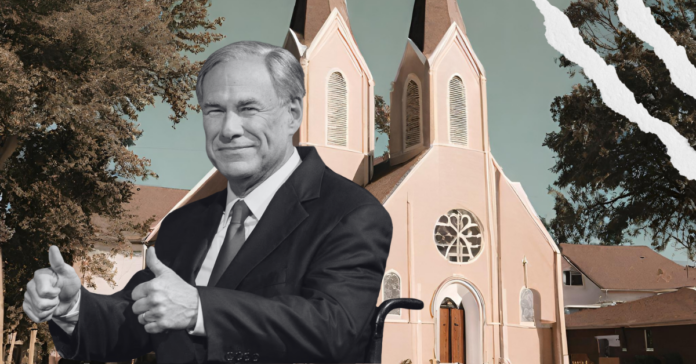 An attempt by Governor Greg Abbott to use Sunday worship services to push his school voucher program received a sharp rebuke from past and current leaders of the Baptist General Convention of Texas.
The move came after a September 15 conference call between Abbott and various clergy leaders around the state. Abbott vowed to call a new special legislative session to continue trying to get his school voucher program passed and encouraged pastors to host a "School Choice Sunday" on October 15 advocating the idea from the pulpit.
Twenty-one current and former leaders of the BGCT responded to the call in a harsh statement, accusing Abbott of attacking the separation of church and state as well as interfering in Sunday services.
"It is out of bounds for any representative of the government to co-opt a Sunday morning time of worship," read the statement. "A government's request for churches to join a legislative agenda violates the conscience concerning religious liberty and the separation of church and state. Churches that too closely entwine with political affairs hamper both their Christian witness and citizenship responsibilities. Texas Baptists remain committed to the separation of church and state. Government should not interfere with the free exercise of religion, and no religion should depend on public tax dollars for support."
This is not the first time that Abbott has tried to leverage religious institutions to pass his voucher program, which has met consistent resistance from Democrats and rural Republicans in the Texas House. In March, Abbott toured the state promoting school vouchers, often enlisting the heads of Christian schools to speak at the events. These speakers made no secret that they hoped to use taxpayer money to evangelize.
"We exist to train, educate, and equip students to impact the world for Jesus," said Jeff McMaster, Headmaster at Brazos Christian School where one event was held. "So, if you dissect that, what that really says is that we are involved with and interested in pursuing a program of academic rigor in a context of relationship and small community, but intentionally in an environment where we get to incorporate a Christ-centered worldview and perspective on everything that we do."
Abbott's voucher plan would allow parents to use up to $10,000 of public funds for private school tuition. In states like Ohio where such programs have passed, 80 percent of the funds end up in religious school coffers.
The BGCT may be off the table, but Abbott is planning other promotion gambits this month. On October 12, he will attend a "Parental Empowerment Leadership Summit" hosted by the Texas Public Policy Foundation. The TPPF is closely linked to Christian nationalism and the extreme right politics of oil and gas moguls Tim Dunn and Farris Wilks, who control much of the Republican campaign machine through various PACs. Much of the argument used to promote vouchers has centered around conspiracy theories that public schools are indoctrinating students into liberalism and secular humanism, and that parents should be able to choose pricey Christian schools instead for free.