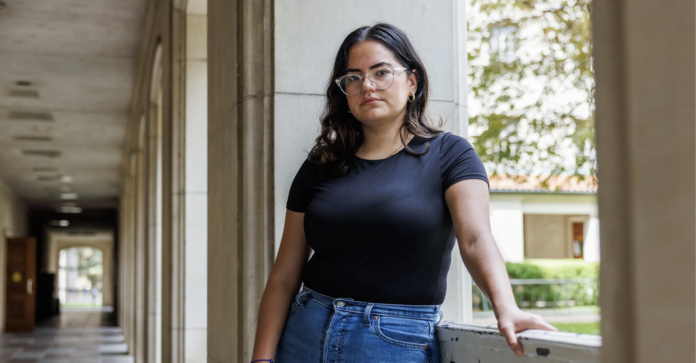 As a first-generation college graduate from South Texas, Priscilla Lugo believed a degree was the key to financial stability and independence.
"My parents didn't go to college and [I was] always being sold this [idea], 'go to school and you'll get everything you've ever needed, you'll have everything you will need to take care of yourself,''' she said.
But her undergraduate degree and two master's degrees from The University of Texas at Austin came with a high price tag — despite receiving financial aid and scholarships, Lugo ended up with $30,000 in student loan debt.
Now, as payments on her student loans resumed this month and she braces for the financial adjustments she'll have to make, Lugo said she's "really feeling lied to and misled."
A pause on federal student loan interest ended Sept. 1, nearly four years after former President Donald Trump provided borrowers with relief in response to the COVID-19 pandemic. President Joe Biden extended the pause after his campaign promised to help millions of borrowers with crushing student debt if elected. But any hopes for extended relief were dashed after the U.S. Supreme Court ruled the Biden administration's student loan forgiveness plan is unconstitutional.
The Texas Tribune asked readers to share their stories of how they benefited from the student loan repayment pause, and how resuming payments will impact their finances. Some said the pause allowed them to contribute funds to their retirement and savings accounts for the first time; others said resuming payments means they will need to get a second job to be able to afford rent, utilities and groceries.
Having to resume payments on her loans worries Lugo, who works in Austin at a Latino civil rights nonprofit. She said her already limited savings will likely diminish to make ends meet and she worries she'll never be able to afford a home or have enough money in the bank for an emergency.
"It is stressful because I know my credit card debt will go up, especially with the rate of inflation and rising cost of living," Lugo said. "I already worry that I am not putting enough money into my retirement fund to sustain my future. I worry about what this will do for not only my immediate future, but the long-term future."
Lugo said she feels misled by the Biden administration, which promised student loan relief to the millions of borrowers across the country like her. Despite applying for an income-based repayment plan — which considers an individual's household income to calculate their monthly loan payment amount — Lugo said making payments will still put her in a tough spot financially. In addition to a tight budget, Lugo said the burden of researching and understanding complex student loan debt repayment plans has fallen on her with no clear communication or assistance from her loan provider.
Taylor Kidd, who lives in Houston and graduated with about $40,000 in student debt after receiving his undergraduate and graduate degrees, said unanswered questions and confusing directions have made the process of paying off his student loans frustrating and anxiety-inducing, even though he and his partner are financially able to pay off their loans.
"I'm appreciative [of loans], but I really don't think I should spend the rest of my life not owning a home or not being able to save for retirement," he said.
In talking with neighbors and friends who have paid off their student loans, Kidd said he has noticed a lack of compassion toward those still struggling to pay them off. Some critics of student loan forgiveness worry that providing relief to borrowers would exacerbate inflation by putting more money in their pockets for high-ticket goods, though loan experts believe that's unlikely. Others simply say borrowers should take responsibility for their loans and not expect help from taxpayers.
The cost of higher education in Texas and across the country has increased in recent years. A report released last year by the Texas Higher Education Coordinating Board shows a "substantial amount of unmet financial need among Texas residents attending Texas institutions of higher education."
The report found that 73% of undergraduate and graduate students who demonstrated need received aid, while 7% of students who demonstrated need did not receive it. Additionally, the report found that financial aid might not be going to the students who need it the most, with 20% of students receiving aid despite not having demonstrated a need for it.
Even though most students in need receive some level of financial aid, undergraduate students attending public universities in 2021 had an average of $12,947 in unmet needs — over half of the average cost to attend college, according to the report.
Linda Richards, a therapist who lives outside of Houston, graduated with $38,000 in student loan debt after earning her undergraduate and graduate degrees from the University of Illinois in 2001.
Decades later, she has paid nearly double what she initially borrowed — something she blames on the high-interest rate attached to her loans. Richards applied for the income-based SAVE repayment plan announced by Biden in August, but because the plan takes into account the borrower's entire household income and her husband's income is higher than hers, her monthly loan payments have actually increased significantly.
Richards, 59, paid off her credit card debt during the repayment pause and directed the money she saved into her retirement account. As repayments resume with increases to her payment requirements, Richards said she won't be able to save for retirement anymore.
"It's kind of scary knowing I'm probably not going to be able to retire," she said.
Tanya Garcia with the Institute for College Access and Success said in recent years the financing of higher education has fallen more on students and their families rather than the institutions or the state.
Garcia said a vast majority of students attend less well-resourced, underfunded institutions that typically serve a higher proportion of students of color and low-income students. Those students often do not receive enough operational funding and support and make up for it by taking student loans.
After the Supreme Court's ruling, the Biden administration came up with other proposals to address the student loan debt crisis.
The Higher Education Act of 1965 gives U.S. Secretary of Education Miguel Cardona leeway to "compromise, waive or release" some federal student loans, which would allow federal officials to craft other solutions for those struggling with debt. But borrowers will have to wait several months for a proposal. The act will need to go through a negotiated rulemaking process, which includes public hearings and can take up to a year.
In the meantime, Biden is offering a 12-month "on-ramp" repayment plan so borrowers who miss a payment won't be referred to credit agencies, avoiding default on their loans.
Garcia said these proposals are a small step forward in addressing the student loan debt crisis, but she added that Texas and the rest of the country still have a long way to go.
"If we don't figure out a way of removing student loans as the financing option, for at least the most low income students, we're not going to be able to build a talented workforce, in Texas, or anywhere," she said.
Disclosure: University of Texas at Austin has been a financial supporter of The Texas Tribune, a nonprofit, nonpartisan news organization that is funded in part by donations from members, foundations and corporate sponsors. Financial supporters play no role in the Tribune's journalism. Find a complete list of them here.
This story originally appeared on the Texas Tribune. To read this article in its original format, click here.
The Texas Tribune is a member-supported, nonpartisan newsroom informing and engaging Texans on state politics and policy. Learn more at texastribune.org.