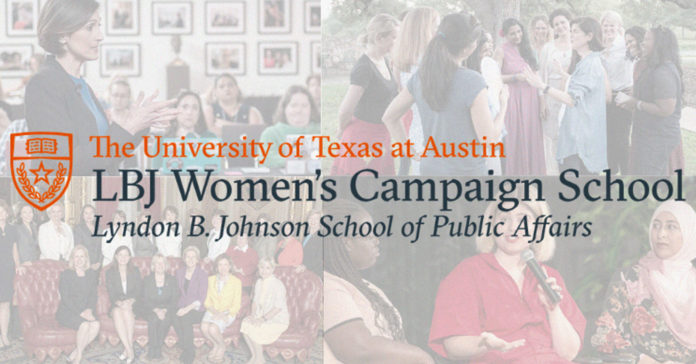 In today's divisive, polarized political landscape, utilizing opposing viewpoints as ammunition is habitual, conventional and arguably the gateway to gridlock. Respecting and understanding different political perspectives isn't the norm.
At the LBJ Women's Campaign School, differing opinions are welcomed as well as the development and promotion of women as candidates for public office and managers of campaigns.  
"It's not about you having to leave your viewpoints at the door when you come in. Bring all of you," Amy Kroll, founder and executive director of the LBJ Women's Campaign School, told Reform Austin in an interview. "We integrate having diverse political viewpoints into everything that we do."
The diversity, perspectives and new ideas within the inaugural class are broad. The class includes Republicans, Democrats and Independents of all ages and from across Texas and eight other states. Kroll said that 58% of the cohort are women of color.
"The women are able to absorb those new ideas, which I think also makes them stronger candidates and makes them better human beings … and then will ultimately make them better-elected officials and campaign managers," she said.
Truly listening to different voices makes American democracy much more powerful and affects better policy outcomes once these women are elected, Kroll said. In the school's first session, both U.S. Rep. Lauren Underwood (D-Ill.) and former Republican Texas state senator Florence Shapiro spoke to the class.
The intent is to practically demonstrate that women have a lot to bring to the political table — as much as men.
"There's a saying Marie Wilson, founder of the White House Project, coined decades ago: 'add women, change everything,'" wrote Nancy Bocskor in an email. She is an advisory board member at the LBJ Women's Campaign School and a former board member at the Yale Women's Campaign School, which appears to be the only other women's campaign school in the U.S. "We know that adding women to politics and public service has real dividends: women are problem-solvers, they collaborate and cross the aisle to find solutions."
The women in the program come from all backgrounds and bring a dynamic range of experiences.
"Women who teach, who take care of parents, who take care of businesses, who have advocated for children, for causes and these women generally have used their voices to keep the peace, disturb the peace and whose messages will be for other women," said advisory board member Rebeca Martinez, a justice on the Texas 4th Court of Appeals, in an interview with Reform Austin.
The campaign school's advisory board also comprises Democrats, Republicans and Independents.
"Amy really did an amazing job in putting together an advisory board and an inaugural class," Martinez said.
Currently, there are women in the class who are supporting campaigns in a variety of functions, and Kroll hopes they'll be able to apply what they learn to those efforts. Additionally, some women in the cohort will be seeking office during the 2021 and 2022 election cycles.
The school helps prepare the cohort members in many ways, Kroll said. One is bringing in top-tier political experts to speak to the class via Zoom — like Underwood and Shapiro — and share their knowledge on key topics such as fundraising, communications, budgeting, calculating vote goals, campaign structure and how to file.
Also, each month every student has to make a video and post it to the school's Slack group to sharpen their digital public speaking skills, which are now crucial to successful campaigning, Kroll said.
Networking is another critical component that will serve the cohort members, she added.
"There's 50 of them that are able to create bonds with one another so that they can support one another as they enter the political arena."
So far, class feedback has been positive.
"When I learned of the opportunity to apply and participate in the LBJ Women's Campaign School, I applied that same day," said Alyssa Benavides, a cohort member and the assistant managing director at the Texas Tech University Health Sciences Center-El Paso, in an email. "The program, affiliated with one of the best schools in the nation, is an opportunity to obtain expert guidance and preparation to successfully run for office."
Benavides feels that more like-minded female voices need to be heard.
"I have committed my life to public policy and to serving," she said. "I believe now, more than ever, increased representation in policy making by women, mothers, and backgrounds like mine is critical. I come from a dynamic, vibrant community; a borderplex that depends on informed, insightful policymaking."
There is a void in women-elected leadership throughout the nation, in particular, women of color, said class member Amber Sims, a Dallas-based leadership and development coach and racial equity consultant, in an email.
"Having worked with women candidates and those interested in pursuing elected office, and being heavily involved in local politics, I see firsthand it takes additional coaching, encouragement and consideration of personal responsibilities to convince women to run for office," she said.
Her goal is to facilitate a viable elected-leadership via policies that are equity-centered and "chart a new course from historical racist and sexist policies and practices that have too often left out women, people of color and too many others."
Sims intends to share knowledge with women, specifically African-American women and other women of color, who don't have access to campaign schools and investment in their leadership.
Kroll, who developed a passion for politics at an early age, was in a master's degree program at the Lyndon B. Johnson School of Public Affairs at the University of Texas at Austin when she had a sort of epiphany. Hillary Clinton had come to the school to receive an award and while watching Clinton, Kroll knew so much more needed to be done to help women successfully navigate the path to political office and successful campaigning.
"There is so much more still to do, and we have to be doing more to reach gender parity," she said " It was 2018 and only 25% of elected officials are women. And so I was thinking we have to be doing more and I thought, "What if the LBJ School had a training program for women who want to become elected officials or campaign managers?'"
She pitched all of the necessary stakeholders at the school — one of the best for policy in the country — and the dean exuberantly green-lit the idea saying it was well-aligned with the vision President Lyndon Johnson had for the school. Kroll said it's doers and thinkers changing society. She constructed the program while in graduate school and after graduating in May initiated the first cohort in June.
"I'm really excited about these 50 women that we have in our inaugural cohort, and what they'll ultimately be able to achieve in their communities," she said.
Martinez said that women are the largest voting demographic in Texas and women from both political parties are now stepping up to serve in a public capacity.
"Let's be honest, this is the time for women. Women who are strong and wise, motivated and persevering."