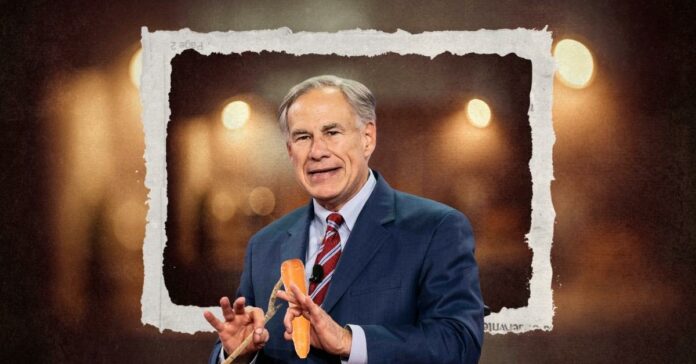 As Gov. Abbott calls a fourth special session to try to pass a "school choice" bill, some Texas political experts are growing increasingly puzzled by the governor's all-stick-and-no-carrot tactics, and many are starting to wonder if he actually wants to pass a voucher bill or if there is some other Machiavellian agenda.
Brandon Rottinghaus, professor of political science at the University of Houston told an RA News reporter, "Honestly, your guess is as good as mine…I think the fact that we aren't sure exactly what he's up to is part of the story – he doesn't seem to be acting in a normal give-and-take legislative negotiation."
It's possible that Abbott doesn't actually intend to get a voucher bill passed because he knows it won't get through the House, thanks to the resolute roadblock of 24 rural Republicans who won't budge on the issue. One theory holds that his real endgame is creating a pretext to primary some of the voucher holdouts, especially House Speaker Dade Phelan who has occasionally frustrated Abbott's legislative agenda.
Another theory is that Abbott is just going through the motions in order to please his billionaire donors so they will back him for a 2028 presidential run.
Rice University professor of political science at Rice University believes both theories are very plausible. "Both explanations are operative for Abbott," Stein told an RA News reporter.
"Failing to get two dozen rural Republicans to vote for vouchers provides him a pre-text to primary these members," he continued. "It also underscores his commitment to donors and, more importantly, primary voters who he will need to defeat the recalcitrant Republican legislators."
Stein added yet another theory. "There is the remote possibility that he still holds (or at least Dave Carney, his campaign consultant) presidential ambitions." He noted a recent New York Times survey that showed Trump's advantage against Biden reverses if he is convicted on any charges. "Swing voters couldn't vote for a convicted felon," said Stein.
"If for some reason Trump stumbles (very unlikely), only Nicki Haley – and not Ron Desantis – are standing in the wings to pick up the MAGA banner," continued Stein. "Since Abbott hasn't said any bad things about Trump, he might be positioned to garner Trump supporters and maybe even Trump's blessing, if he really does jail time. All of this is probably more fantasy than real, but…. stranger things [have happened]."
Brandon Rottinghaus floats another theory. He postulates that Abbott has "fully bit down on the idea of the power of the governor in Texas to set the agenda and get what they want," he said. "This is a misreading of how governors have been successful legislatively but Abbott and his advisers have not shied away from bullying the legislative branch."
Republican Rep. Ernest Bailes recently discussed the governor's hardball tactics. In an interview with The Houston Chronicle, Bailes recounted Abbott's visit to the House floor this spring to shake hands and twist arms over voucher legislation. He said the governor approached him with a warning:
"He says, 'Bailes, you need to understand that those who stick with me on this, I will support their legislation, and those that go against me, I will actively work against them.'"
Bailes then told the governor to go ahead and kill every bill he filed.
"If the only thing I was able to accomplish this session was to safeguard public education in the state of Texas, I still consider that an effective session," he said.
"The whole thing is insincere," Bailes added. "The only reason we're doing this is so that one person has a political victory."