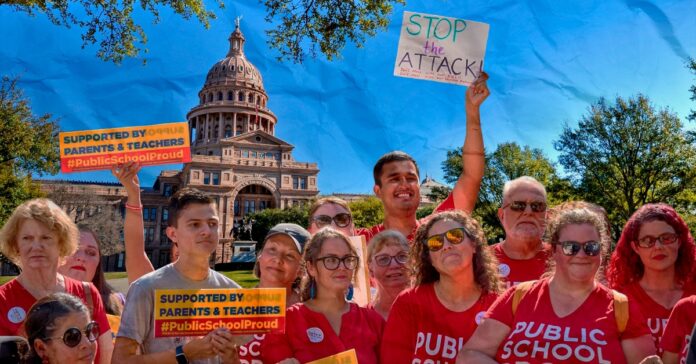 As the debate over private school vouchers unfolds, one of the core issues at the heart of the controversy is the complex interaction between these programs and the principles of separation of church and state as enshrined in the First Amendment of the United States Constitution.

The Establishment Clause of the First Amendment prohibits the government from endorsing or promoting a particular religion, effectively creating a separation of church and state. In essence, this clause seeks to maintain a neutral stance on religious matters and prevent government resources from directly or indirectly supporting religious institutions.

According to The Houston Chronicle, supporters of voucher programs argue that recent Supreme Court rulings have paved the way for Texas to consider implementing them, while critics highlight untested legal issues, particularly in a state like Texas that has not previously had such a program.

The current voucher-like legislative proposal under discussion is Senate Bill 1, which is currently stalled in the Texas House. This bill seeks to enable parents to apply for access to $8,000, held by an external organization, which they can use for various educational expenses, including school tuition, uniforms, transportation, tutoring, special education therapies, and extracurricular activities.

Back in March, during the regular session when the voucher debate started heating up, Sen. Brandon Creighton requested the legal opinion of Attorney General Ken Paxton who said that there is no constitutional barrier prohibiting Texas from implementing such programs.

"Texas parents should have the right to choose the best school for their kids, and every Texas child deserves the opportunity to attend a good, safe school where they can learn and thrive," said Paxton, a proponent of school choice. "Today I issued a legal opinion which informs the Texas Legislature that there are no constitutional barriers to enacting school choice in Texas. It's time to empower Texas parents and provide additional educational opportunities so every Texas child can reach their dreams."

The U.S. Supreme Court has provided some guidance on voucher programs over the past couple of decades, but it is still an evolving legal landscape.

In a 2002 case, Zelman v. Simmons-Harris, the Supreme Court upheld an Ohio tuition aid program as constitutional, arguing that it provided genuine choice among public and private, secular and religious schools.

In 2020, the Supreme Court ruled in Espinoza v. Montana Department of Revenue that state funds must be allowed for religious schools, citing the First Amendment's free exercise clause. In 2021, the court went further in Carson v. Makin, stating that a tuition assistance program in Maine that barred the use of vouchers for religious schools was discriminatory, requiring the state to include these schools.
Nonetheless, legal questions persist.

According to Heather Weaver, staff attorney at the American Civil Liberties Union, one concern that is being litigated now is that voucher programs are not subject to the same anti-discrimination laws as public schools, which could lead to potential issues regarding discrimination based on factors like sexual orientation or gender identity.

"States should not be required to fund discrimination, whether it's based in religious sentiment or some other sentiment," Weaver told The Houston Chronicle.
Another point of contention is whether voucher programs would comply with the Texas Constitution's requirement for an "efficient system of public free schools."
Critics argue that diverting student funding from public schools would likely violate this provision. Proponents, however, maintain that state law only mandates base funding for public education and that vouchers would not undermine this requirement.In summary, the debate over private school vouchers in Texas remains a complex legal and educational matter. The legality of such programs under state and federal law, as well as their potential impact on students and public schools, will continue to be a subject of discussion and scrutiny as the special session moves forward.