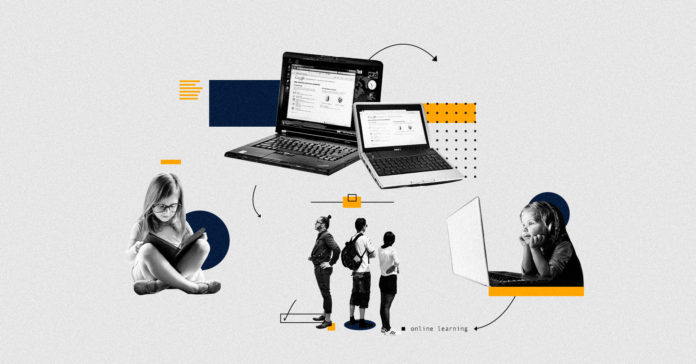 With the Delta variant of the coronavirus spreading more and more, many are concerned that schools might be an incubator for the virus. Just as COVID led to a push for virtual schools in the regular session, a similar push for virtual learning has emerged in the second special session of the 87th Texas Legislature.
SB 15 was filed by Sen. Larry Taylor on August 7, 2021, and passed the full Senate on August 10, 2021. The bill is similar to HB 1468 sponsored by Rep. Keith Bell in the regular 87th legislative session.
SB 15 would create a system for virtual and off-campus electronic instruction at a public school, the satisfaction of teacher certification requirements through an internship teaching certain virtual courses, and the allotment for certain special-purpose school districts under the Foundation School Program.
Although the bill has passed engrossment in the Senate it has not yet been received by the House since they have failed to muster a quorum during the special session. If the House is able to muster a quorum the bill will likely be sponsored by Rep. Bell in the House.
Support for the bill exists primarily through Bell and some districts that are still working to develop a virtual system.
One issue is that while a few districts did offer virtual schooling at their own expense, most of them only enrolled a small number of students. For example, in a discussion with Denton ISD earlier this week they indicated that they only have a few hundred students virtually enrolled out of about 30,000 students. In addition, most schools have already started back with in-person learning. With concerns about Governor Abbott's mandate that schools can't require masks, they seem too busy with the concerns of parents, students, and community members to take on virtual learning.
Another issue is that all four of the larger teacher associations have expressed concerns about the bill. This would include the Association for Texas Professional Educators (ATPE), Texas American Federation of Teachers (TAFT), Texas Classroom Teachers Association (TCTA), and Texas State Teachers Association (TSTA). Some concerns were addressed in amendments to the bill but for some there are still issues, leaving them to be neutral on the bill rather than supportive."
A final note of concern may be the Republicans themselves. While this bill was sponsored by the Chair of the Senate Education Committee and will likely be sponsored by a respected member of the House Public Education Committee (should they reach quorum), Republican state leadership is advocating in-person learning with no mask requirement or contact tracing.
Texas Governor Greg Abbott issued the mask ban mandate back in May of this year and it has become increasingly unpopular with school districts as school begins and children are placed in close proximity to one another. But Abbott has consistently maintained that he will not alter the mask ban mandate over the concerns of local communities, stating at one point that he is "more powerful than Putin" due to the size of the Texas economy.
Ironically, Abbott tested positive for COVID after a recent standing room only event in Collin County where most attendees went unmasked. As one Houston politico stated, "Protocol now dictates that he work from home while millions of Texas school-children are forced together in large groups with no allowance for the school to protect them."
Many think that this may be the issue that backfires against Abbott and removes him from office during the next election or puts a damper on any presidential aspirations he may have. While that may be true, its impact could work against the virtual learning bill. The Governor's message and the efforts of Republican lawmakers for virtual learning may find themselves at odds. If so, the message could be so convoluted that the bill is endangered.
The entire issue is dependent on whether or not the missing Democrats return to Austin to vote during this second special session. If they don't, the point is moot. With changes occurring almost daily with how schools have to deal with the virus and state-level mandates about it, there is one thing for sure, and that's that no one seems to know anything for sure.