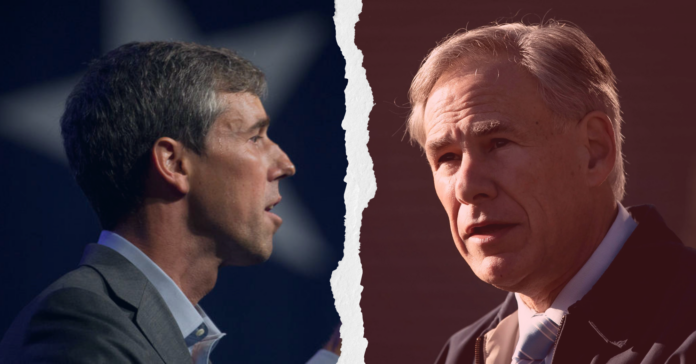 Gov. Greg Abbott's campaign released a misleading advertisement in which it sounds as if his opponent in the governor's race, Beto O'Rourke, is categorically endorsing defunding the police, according to a CNN report.
In the ad, video is shown of Mr. O'Rourke saying, "I really love that Black Lives Matters and other protesters have put this front and center to defund…" – at this point, the video cuts away from O'Rourke, the audio changes subtly, and O'Rourke's voice intones – "police forces."
The reason the video suddenly cuts away is because 60 words were cut from the quote. "That is not a sentence Beto O'Rouke ever uttered," said CNN fact checker Daniel Dale.
The Abbott campaign took a sentence from a podcast interview O'Rourke did two years ago in which he supported defunding "you know, these line items that have overmilitarized our police, and instead invest that money in the human capital of your community, make sure that you have the services, the help, the support, the health care necessary to be well and not require police intervention. And then also in some necessary cases, completely dismantling those police forces and rebuilding them."
O'Rourke has consistently said that he opposes defunding the police. At a town hall event in July O'Rourke said, "I don't see eye-to-eye with you on defunding the police," O'Rourke said to an attendee. "I want to make sure we can count on the police and that means making sure they have the resources and funding they need, the training that they need."
A spokesperson for Beto's campaign said O'Rourke has repeatedly voted to increase police budgets as a member of the El Paso City Council and as a member of Congress.
"As governor, Beto will ensure that law enforcement agencies have the resources they need to address violent crime, bring justice to victims, and keep our communities safe," the spokesperson said. "Beto will also invest more resources in mental health services, social workers, and addiction treatment. "