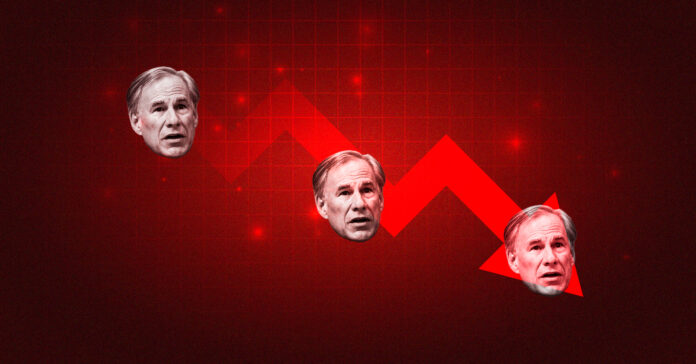 A March poll by the bi-partisan pollster Texas Lyceum shows Gov. Greg Abbott with only a two point lead ahead of former Congressman Beto O'Rourke in the 2022 Texas governor's race. The sample of the poll however does not reflect registered voters because it first sampled all Texas adults and then surveyed the 77 percent of those who answered they were registered voters.
The Lyceum poll showed Abbott garnered 44 percent support, while Beto received 42 percent support.
This comes as a poll commissioned by the Jonathan Stickland-led Defense Texas Liberty PAC — the latest iteration of far-right West Texas oilman Tim Dunn and the Wilks brothers — shows Abbott is supported by 6 percent of Texas voters for the Republican nomination for President in 2024 with Trump on the ballot and by 10 percent of voters without Trump. The pollster behind this survey, Chris Sacia, is relatively unknown in the polling space. This tracks with other polling that shows Abbott is not as popular as Trump or Florida Gov. Ron DeSantis among the Republican base for the 2024 presidential nomination.
Trump polled at 46 percent among Texas voters against five other speculated 2024 presidential primary candidates Abbott, DeSantis, Texas Sen. Ted Cruz, former UN Ambassador Nikki Haley and South Dakota Gov. Kristy Noem. DeSantis polled at 48 percent if Trump is not on the ballot, while Cruz nearly doubled the support Abbott received at 19 percent.
Another poll published on Tuesday by the Hispanic Policy Foundation (HPF) and Rice University found among likely voters, Abbott leads O'Rourke by eight points, 50 to 42. HPF oversampled Hispanics in their poll.
These are the first polls since the March 1 primary, where Abbott won the Republican nomination with 66.5 percent of the vote and O'Rourke won the Democratic nomination with 91.4 percent of the vote.
Both candidates have seven months to campaign before the final vote is cast, a lifetime in politics for how the electorate will feel about either.
To follow the latest polling in the Governor's race and elections for other statewide offices, head to our Texas Poll Tracker.