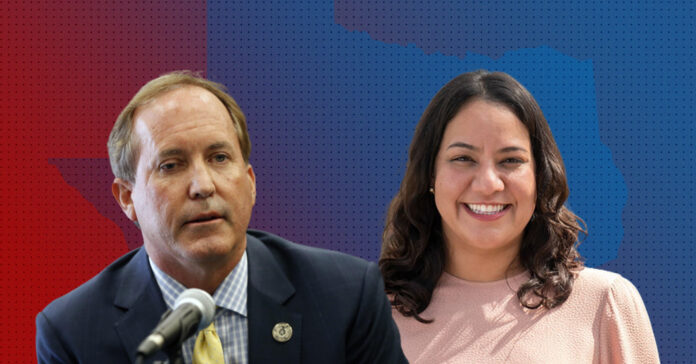 The race for Texas Attorney General this year is one of the most unique in state history, and it's very hard to tell exactly where it will go. Today, we're breaking down some factors that might influence it.
Ken Paxton's Legal Woes
This will be Republican Attorney General Ken Paxton's second election under indictment for securities fraud. As the state's top cop, he has managed to slow-walk his own trial for seven years, and there is no reason to believe he will see himself in court before the election. On top of his old charges, the FBI is currently investigating him for bribery and misuse of office for the benefit of wealthy donors. In a normal era, such accusations should hurt what is supposed to be the legal conscience of a state.
However, there is little evidence that Paxton's legal troubles bother voters. He easily fended off a primary challenge from land commissioner George P. Bush, a scion of Texas Republican royalty who made Paxton's alleged crimes the cornerstone of his campaign. While Paxton won his last re-election by less than four percentage points, he still seems to have the confidence of the Texas Republicans.
Rochelle Garza's Abortion Boost
Democratic challenger Rochelle Garza is a rarity in Texas Attorney General politics in that she is actually bringing a little star power to the contest from the left. As a civil rights lawyer, she took on the Trump Administration and won when it came to detained migrants and the right to an abortion. She took the case of a 17-year-old who was in state custody and wanted to get an abortion. She was initially denied, but Garza fought hard in court for teens to be given information and access to reproductive healthcare while under government detainment.
This is now known as the "Garza Notice." Normally, it might not be such a factor in the race, but now that Texas has functionally banned most abortions in the state, it may make Garza an avatar of reproductive freedom. Should the pushback against the state's Draconian reproductive health restrictions build toward the election, Garza could well ride the wave forward.
Tough On Crime?
Attorneys General often have to build their political case on being "tough on crime" whether they are a Democrat or a Republican. However, the entire country is having several arguments on what that means. On the one hand, Paxton can point to his support of anti-immigrant policies that have proved popular in the state with conservatives and centrists. On the other hand, the recent school shooting in Uvalde is turning out to be a tide-changing event for gun control. With Senator John Cornyn taking point on a national gun reform bill, it could leave Paxton out in the cold on the issue if there is a significant populist swelling for expanded background checks and other minor reforms.
The Red Wave
It's conventional political wisdom that the president's party always loses congressional seats in the midterm elections. There have only been a handful of times this has not proven true. Most political experts expect Republicans to do well this November, particularly because President Joe Biden has an approval rating around 40 percent. Voters tend to take out their frustration with every new administration two years later unless a spectacular national event like 9/11 causes them to rally around the leader. The only catch to this wisdom is that increased political polarization since 2010 means that polls may not be fully capturing the ill of the voters. Still, the smart money is on Paxton and his current six point lead over Rochelle in polls.
The Beto Factor
Former representative Beto O'Rourke is a game changer in Texas. His meteoric rise in 2018 came within a few percentage points of toppling Senator Ted Cruz, and his star only grew when he ran for president two years later. This year, he is challenging Greg Abbott for governor, and while he is still consistently behind, Abbott has not been able to get above fifty percent on most polls.
Following Uvalde, O'Rourke stormed a press conference and denounced the gun policies of Texas Republicans for contributing to the violence. There have been no polls yet showing if this has influenced public opinion, but if O'Rourke brings his star power to the midterms, it could boost Garza alongside him. It's worth remembering that while he failed to win the senate seat in 2018, the large Democratic turnout flipped two districts and many judgeships. Perhaps he can pull a similar trick with the attorney general race this year.