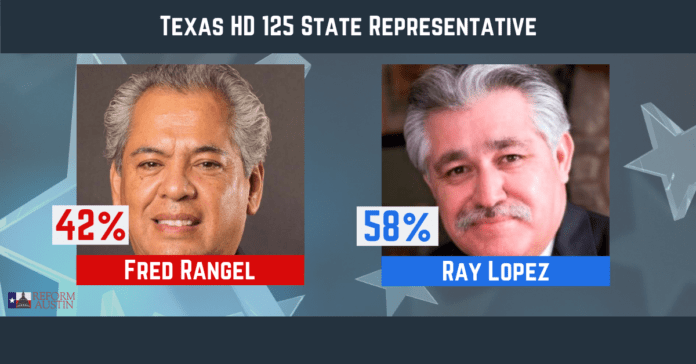 Results for San Antonio House District 125 runoff election came to a close Tuesday night.
Former San Antonio City Council member and Democrat Ray Lopez won the runoff for House District 125, receiving 5,311 votes (58.4 percent) against small businessman and Republican Fred Rangel, who received 3,780 votes (41.6 percent).
As in most emergency special elections, voter turnout was low. Just 9,107 (9 percent) of House District 125's over 101,000 registered voters cast a ballot in the election. With numbers for ballots by mail being finalized soon, Bexar County Elections Department reports 5,805 (63.7 percent) special election voters voted early while 3,295 voters (36.3 percent) cast a ballot on Election Day – Tuesday, March 12.
The election was initially called by Gov. Greg Abbott to replace Justin Rodriguez (D-San Antonio), who stepped down after being appointed Bexar County Commissioner to fill the vacancy created by the passing of Commissioner Paul Elizondo.
Texas House District 125 is located in west and northwest Bexar County, stretching from the Greater Gardendale neighborhood west of downtown San Antonio (near the intersection of Highway 90 and 371) up diagonally northwest to Loop 1604.
Once Ray Lopez and State Rep.-elect Christina Morales (D-Houston) are sworn in, the House complement of members will be brought to 150, with 83 Republicans and 67 Democrats.

Reform Austin will continue to report on the 86th legislative session.