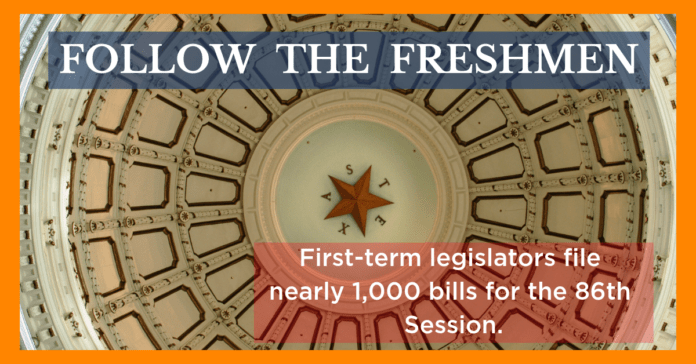 Fifth in an ongoing series
With the first half of the legislative session in the rearview mirror, last Friday marked the deadline for bill filing. The statutory limitation on passing bills not deemed emergency items by the Governor is lifted, and legislators will be engrossed in the process of debating and passing bills up until Memorial Day, the last day of session.
Since our previous check-in with the freshmen class of legislators over a week ago, many were busily filing bills before the clock struck six last Friday evening.
Joining the freshmen class is Christina Morales (D-Houston), who won the special runoff election in House District 145 last week. She has not yet sworn in and thus was unable to file any bills this session. The winner of the House District 125 special runoff election in San Antonio tonight will face the same situation.
Collectively, 29 freshmen state representatives filed 650 bills, while six freshmen senators filed 336 bills. Over 500 of those bills were filed from the freshmen of both chambers in just the last week.
House Freshmen
Leading the House freshmen in bills filed are Rep. Erin Zwiener (D-Driftwood) and Terry Meza (D-Irving) with 50 each. Following not too far behind is Rep. Mayes Middleton (R-Wallisville), who filed a whopping 34 bills in the last week prior to the deadline, two shy of Zwiener over the same period.
While no House freshman legislator failed to introduce a bill this session, the least number of bills filed came from Rep. Candy Noble (R-Allen) with seven.
On average, House freshman filed 22 original bills in the session so far.
A few notable bills from among the House freshmen include a bill written by Rep. Gina Calanni (D-Katy), which mandates reasonable workplace accommodations for women with limitations related to pregnancy, childbirth or a related medical condition, and a bill by Rep. Steve Toth (R-The Woodlands), which creates a pretrial victim-offender mediation program.
Senate Freshmen
Continuing his streak leading the Senate freshmen as he had all session is Sen. Pat Fallon (R-Prosper) with 104 bills filed. On the other hand, the freshman Senator, Pete Flores (R-Pleasanton), filed the least number of bills with 26.
Freshman legislators in the Senate filed an average of 56 bills this session.
A few notable bills from among the Senate freshmen include a bill written by Sen. Fallon to have members of the legislature be subjected to random drug testing during the legislative session, and a bill authored by Sen. Beverly Powell (D-Burleson) to audit the STAAR test. Powell gave parents and educators the opportunity to comment and report back to the Legislature by July 2020.
Learn More
Readers can find legislators' specific bills here: https://capitol.texas.gov/Reports/BillsBy.aspx