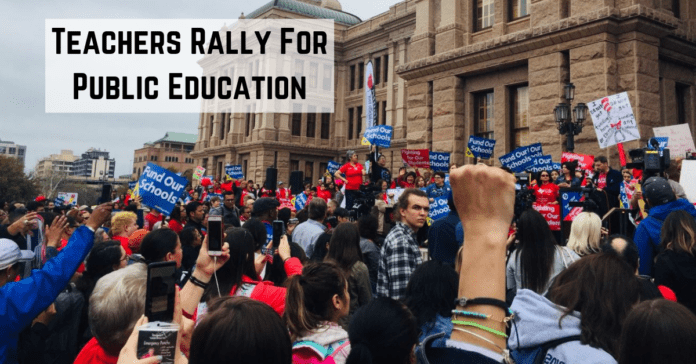 Pictured: Attendees of the AFT Rally for Public Education
AUSTIN, TX – On the first day of Spring Break for public schools in Texas, several hundred educators, students, and advocates from across Texas gathered in front of the Capitol steps to rally for more funding for public education.
A Dallas-area pastor, John Ogletree, representing Pastors for Texas Children, opened the rally saying, "teachers plant the seed of hope in our children." He urged the crowd, clad in red, blue and purple, to "keep hope alive undeterred by criticism and challenges that you face." He ended with a prayer for God to "touch the heart of every legislator… [and] open up their pocketbooks to fund public education and take all the restraints off of these schools and educators."
Dozens of legislators were present at the rally.
Speaking at the teacher union-sponsored rally was Texas-AFT president Louis Malfaro, TSTA president Noel Candelaria, AFT president Randi Weingarten, NEA president Lily Eskelen Garcia, and Texas-AFT members.
Candelaria, TSTA president and special ed teacher from El Paso, claimed Texas cut funding for education by 20 percent since 2008, when accounting for inflation. He said, "underfunded public schools in Texas is an emergency."
He also called on the Legislature to provide an overdue pay raise for teachers and school employees and to help retired teachers who have not received a Cost of Living Adjustment in years. Candelaria criticized merit pay for teachers, saying it is "not reform."

Malfaro reminded legislators, "We [teachers] are coming back next March and November" to elect pro-public education candidates. He criticized public funding of charter schools claiming "there is $1,000 more money per kid in charters" as compared to funding for each student in traditional public schools.
We're live at Texas Capitol where thousands of teachers have gathered to rally and mobilize for better public education.

Posted by Reform Austin on Monday, March 11, 2019
Facebook Livestream of the Rally
Teachers & Support Personnel Speak Out
Tracy Dulap, an Austin ISD kindergarten teacher, spoke about the "other side of life of a teacher." She spent more than a decade paying increasing health insurance, housing, and other bills while meeting a growing workload. The small raises from her ISD were not enough to make ends meet, leading Dunlap to consider working a second job again. She also criticized merit pay tied to STAAR testing, arguing the test was "not designed for teacher effectiveness."
Aissa Velazquez, a 10-year bilingual teacher from Harlendale ISD, gave emotional testimony on the tough decisions underpaid teachers are making with their families. Her monthly health insurance premiums ballooned from $500 to $1,400 over the course of her decade in teaching. Her second pregnancy cost her more than her first, with insurance paying less than before and her family receiving more bills from the provider. She was prescribed medication which cost her $900 because the insurance only covered $100.
The erosion to her take-home pay through a high deductible and increasing out-of-pocket costs, all for a plan with little coverage, led her and her family to go without health insurance for the first time. She claimed her story is not uncommon among teachers.
"I will not be silenced," Velazquez told the crowd. "Lawmakers need to remember they too were taught by educators like us."
Sylvia Hunter, a cafeteria worker from Houston ISD, told the crowd the Legislature is trying to drive a wedge between teachers and support personnel. "Not one school employee across America is not important," said Hunter. She reminded the crowd support personnel do not get paid in the summer. "School districts don't have enough money. It's here [at the Legislature].
"We need our money right now… we earned it."
National Context of the Underfunding of Public Education
Garcia put the rally in perspective of the national teacher movements of the past year from Oklahoma to Denver. "Voices have to be lifted, had to shout the truth to power" in response to the strategy to "privatize, standardize, deprofessionalize" public education. She told educators in the crowd, "This is an act of rebellion. This is an act of democracy… This is a profound act of love. You're here because you love someone else's child. We are going to win.
"They gave you no choice, you have to use your outside voice."
Weingarten said fighting for Texas students and funding public schools is "funding our future." She advocated for tapping into Texas' rainy day fund, "At the time of tax cuts to the rich, starving our schools, diverting money to privatization, we saw our rainy day fund grow and grow."
The rally then moved inside into the rotunda and the crowd was urged to use their "inside voice."
In what legislators are calling an "education session," school finance and teacher pay top the priorities for state leadership. Reform Austin will continue to track and update you on this issue.