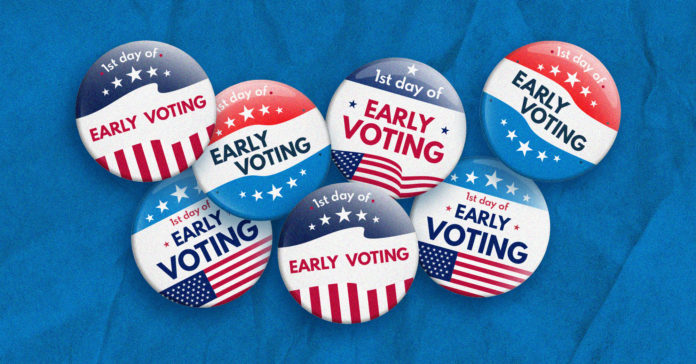 Today is the first day of early voting, and in many places around the state, voters began lining up before the sun came up. More than 275 were in line in the dark in Katy. At a site in Abilene, the line wound around the building. The story was the same in Austin, Dallas, Houston, Fort Worth, San Antonio, El Paso and points in between.
About 280,000 Texans had already cast their votes by mail before in-person early voting had even begun, according to numbers from the Texas Secretary of State and Harris County.
There have been some reports of problems at the polls. The voting machines in Fort Bend County were programmed for Oct. 18, the day early voting was originally supposed to begin. They were being reprogrammed.
"I am extremely disappointed with the technical glitches that riddled Fort Bend County Election machines this morning," Fort Bend County Judge KP George tweeted. "Those who are responsible will be held accountable. In an era voter where suppression is real, I will authorize a full investigation and call for accountability."
In Tarrant County, one polling site was closed because a poll worker tested positive for COVID-19. All workers who attended the same training class were asked to stay home.
Just a few hours before the polls opened, the 5th U.S. Circuit Court of Appeals in Austin issued a permanent ruling upholding Gov. Greg Abbott's order to limit in-person mail ballot drop-off locations to no more than one per county, no matter how large the county.
The court, all appointed by President Donald Trump, found that because Abbott has taken other steps to expand voting options, those who are suing to invalidate the proclamation cannot claim their right to vote is being restricted.
"The Federal Court of Appeals upholds my proclamation about mail-in ballots saying that it actually expanded access to voting by allowing drop-offs before Election Day," Abbott reacted on Twitter. "Critics were clearly clueless about the legality of my action & simply voiced prejudicial political opinions."
"Cowards. Every single one of them are cowards. The Republican Party of Texas, Greg Abbott, the Texas Republican Supreme Court, and indicted Attorney General Ken Paxton are attempting to quash every opportunity to vote that is not the exact same as it was in 1900," said Texas Democratic Party Chair Gilberto Hinojosa.
"It won't work. Right now, millions of Texans across the state are doing everything in their power to make their voices heard. This terrifies Texas Republicans because they know Texans are fed up. Together we'll overcome every Republican attempt to stop Texans from voting and turn the state blue. This is our moment."
Feeling their oats from the previous court wins, Republicans are trying yet another legal maneuver to curtail expanded voter accessibility. A new lawsuit filed by the Harris County GOP aims to stop Harris County Clerk Chris Hollins from offering drive-thru voting to anyone who wants it. The party claims drive-thru voting is an option available only to those who are sick or disabled.
"Chris Hollins continues to try and rewrite Texas election law as an unelected county clerk," reads a news release issued by the party. "Just a matter of weeks ago, the Supreme Court of Texas ruled Hollins was illegally trying to send absentee ballot requests to voters that were not legally able to vote absentee. Now he is trying to unlawfully expand a form of voting almost entirely targeted at voters who physically can't walk into a polling location."
Early voting begins with a record 16.9 million Texans registered to vote, according to numbers from Texas Secretary of State Ruth Hughs. That's up by 284,000 from the total reported just three weeks ago and about 1.9 million more than were registered for the last presidential election. Once all of the applications filed from the last day of voter registration, Oct. 5, have been entered into the system, the total will rise even more.
Early voting continues through Oct. 30. Hughs urges voters to keep in mind that the pandemic is ongoing and observe the recommended health care protocols.