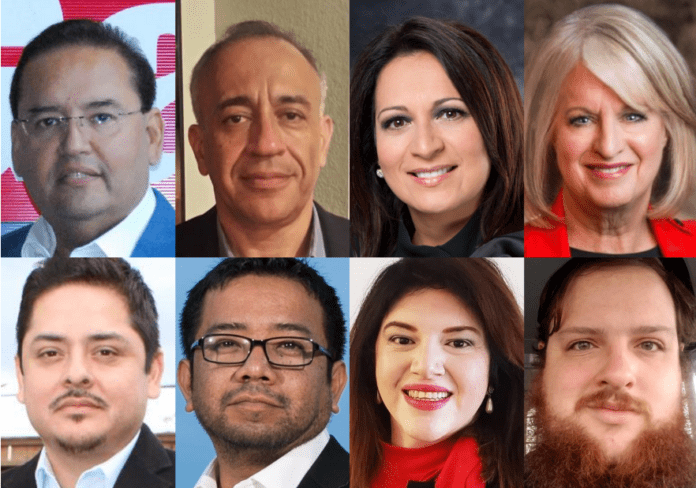 (From left to right, top to bottom: Elias De La Garza, Oscar Del Toro, Christina Morales, Melissa Noriega, Alfred Moreno, Ruben Gonsalez, Martha Fierro, Clayton Hunt)
Eight candidates have filed to run for the special election for State House District 145, which was called by Governor Greg Abbott to fill the vacancy created when State Representative Carol Alvarado (D – Houston) won a December 2018 special election for Senate District 6 to replace Sylvia Garcia, who resigned after winning election to Congress.
To run, a candidate must be at least 21 years of age, a Texas resident of 2 years, and have been a resident of the House District for the 12 months prior to the election. The candidate's application must also be accompanied by a filing fee of $750.
Reform Austin has previously reported on several candidates who had announced their intention to succeed Alvarado. Three of those candidates actually filed to be on the ballot: former Houston City Council Member and former House District 145 representative Melissa Noriega, small business owner Christina Morales, and the lone Republican candidate in the recent Senate District 6 special election, Martha Fierro.
On Thursday, January 3rd, five additional candidates filed, Libertarian Clayton Hunt, Democrats Oscar Del Toro, a former candidate for Pasadena City Council, community activist Ruben Gonsalez, Alfred Moreno, and Elias De La Garza, a former Democratic primary candidate in 2008 for this seat.
In order to win the special election outright, a candidate must receive at least 50% of the total votes, or there will be a runoff election between the top two vote-getters several weeks later.
Early voting will begin on Monday, January 14. Election Day is Tuesday, January 29.