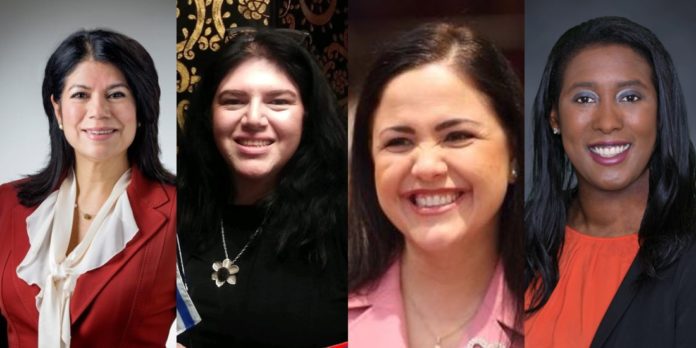 (From left to right: Carol Alvarado, Martha Fierro, Ana Hernandez and Mia Mundy)
Four candidates have filed to run for the special election for State Senate District 6. The special election was called by Governor Greg Abbott to fill the vacancy created when State Senator Sylvia Garcia (D – Houston) resigned after winning election to Congress.
To run, a candidate must be at least 26 years of age, a Texas resident of 5 years, and have been a resident of the Senate District for 12 months. The application must also be accompanied by a filing fee of $1,250.
Reform Austin has previously reported on two current house members who have filed to succeed Garcia, Ana Hernandez (D-Houston) who represents House District 143, and Carol Alvarado (D-Houston) who represents House District 145.
On Friday November, 16th, two additional candidates filed. Martha Fierro, a Harris County Republican Precinct Chair (Pct. 72) and former nurse; and Democrat Mia Mundy, an executive search consultant.
For some residents of Senate District 6 this won't be their first time voting in a special election for their Texas Senator. In 2012, the seat became vacant after the incumbent Mike Gallego died suddenly, triggering a special election in January 2013. A total of eight candidates filed to run including one Independent, two Republicans, four Democrats, and one candidate from the Green party.
In order to clinch the seat a candidate must receive at least 50% of the total votes, or there will be a runoff race between the two candidates who received the most votes.