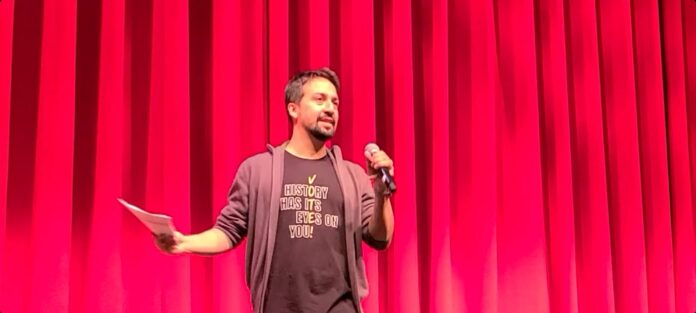 Broadway star and Hamilton creator Lin-Manuel Miranda campaigned Tuesday in Houston in a get-out-the-vote effort for Beto O'Rourke just days ahead of early voting, which starts next week. Miranda spent Tuesday campaigning for Democrats, first with a youth voting panel discussion at the University of Houston, then campaigning for Texas attorney general candidate, Rochelle Garza, at a reproductive rights rally.
Miranda said that Democratic Attorney General candidate Rochelle Garza would be the first Latina attorney general of Texas if elected. She spoke at the rally before O'Rourke came on stage.
Texas Democrats are hoping the award-winning Puerto Rican composer can motivate voters, especially young and Hispanic voters, to get to the polls as voter turnout is critical to their chances of winning statewide races.
Miranda tried to convey the significance of this election at the O'Rourke rally. "Everything is on the ballot for these young people," said Miranda. "Their bodies are on the ballot. Gun control is on the ballot. Immigration is on the ballot. These are all issues they're facing. If this room is any indication today, yeah, I hope they show up."
O'Rourke attacked Abbott on guns, his Uvalde response, the electric grid, and reproductive rights. He implored his young supporters to make a plan to vote.
"They're not on anybody's radar, not on anybody's poll, this campaign as of 2 weeks ago had already registered 70,000 college students, those are just college students from our fellows on college campuses across the state of Texas," O'Rourke said. "I am confident young people are going to lead the way, as they always do, and they're going to lead us to victory."
Several students on the University of Houston panel talked about what was motivating them to vote this year. Several themes came up over and over including abortion rights, birth control, voter suppression and the inablity to use their student IDs to vote, mass shootings and gerrymandering.
Miranda spoke about his shock when Roe v Wade was overturned during the panel discussion. "I never in my lifetime imagined that would go backwards," he said. "I never imagined that what was settled law could be undone. I find myself really shocked and saddened by that." But, he continued, "I get a lot of hope talking to you guys here today."
Miranda also attended an event for Harris County Judge Lina Hidalgo, where he spoke about the importance of Latino voting.