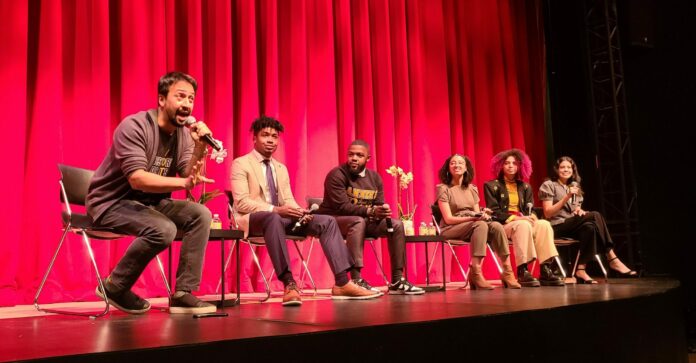 Lin-Manuel Miranda, creator of the smash hit musical Hamiliton, was in Houston Tuesday for a Beto O'Rourke rally. But prior to the O'Rourke rally, Miranda spent some time moderating a youth voting panel at the University of Houston. The event, sponsored by NextGen America, was held at Lyndall Finley Wortham Theatre on the university's campus.
Miranda was introduced by Houston Mayor and University of Houston graduate Sylvester Turner, who spoke about voter suppression and the importance of voting. Turner also praised Miranda for using his notoriety to help the people suffering in Puerto Rico. Mayor Turner also spoke about Houston being "the most diverse city in the country, on a campus that's one of the most diverse in the country."
Several students on the panel talked about what was motivating them to vote this year. Several themes came up over and over including abortion rights, birth control, voter suppression and the inablity to use their student IDs to vote, mass shootings and gerrymandering.
Miranda spoke about his shock when Roe v Wade was overturned. "I never in my lifetime imagined that would go backwards," he said. "I never imagined that what was settled law could be undone. I find myself really shocked and saddened by that." But, he continued, "I get a lot of hope talking to you guys here today."
Miranda, wearing a shirt that said, "history has its eyes on you," referenced the shirt and said, "the rest of the world is looking at you. I'm here to tell you that the rest of the United States is looking at what you guys are going to stand up and vote for…history does have its eyes on you," he said to raucous applause.
Miranda finished by turning his back to the crowd and raising his camera to take a selfie with the the large group of students in attendance. An RA News reporter lost his balance in the melee that ensued as students made their way into his selfie frame.