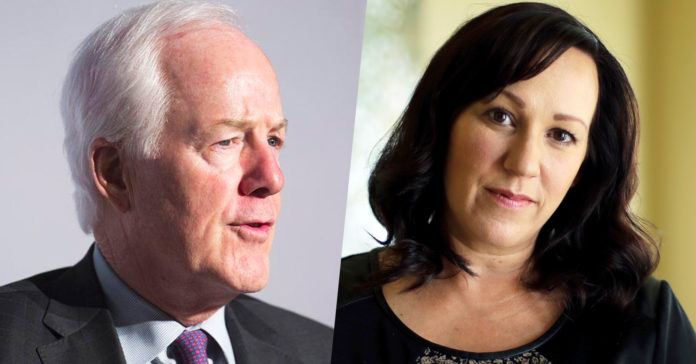 When he started his latest re-election campaign, incumbent U.S. Sen. John Cornyn (R-Houston) probably never expected it would wind up being the fight of his political career, but Democratic nominee MJ Hegar is giving him a run for his money. The two faced each other in a debate at the Bob Bullock State History Museum in Austin Friday evening. There were no fireworks like the presidential debate two weeks ago. Also, there were no disagreements over whether each would be tested for COVID-19 ahead of time, with both turning in negative test results prior to the event.
The candidates fielded questions on wide-ranging issues including wearing masks, racial injustice, police reform, mandatory COVID-19 vaccines for school children, filling the Supreme Court vacancy, climate change, and legalizing marijuana. It was clear from the get-go that Cornyn's goal was to use the opportunity to paint Hegar as a liberal — a liberal who would bring California-style politics to the Lone Star State. From his opening statement to his answers to the questions, his remarks were peppered with references to Hegar's ties to the Democratic leadership in Congress.
"I don't believe we need to make Texas like Chuck Schumer's New York or Nancy Pelosi's California — which the policies by my opponent would do. We need to make the rest of the country more like Texas," Cornyn said.
Hegar shot back with a reminder to Cornyn that he is not running against Schumer or Pelosi.
"I'm a Purple Heart veteran and a working mom of two and I am your opponent. I am the person you are running against as inconvenient as that is for you, it's my ideas and my support in this state that you are going to have to face in this election," Hegar said.
The Issues
Both would vote for another round of direct stimulus checks to Americans.
"I believe we can't attack the economic crisis until we get the public health crisis under control … we can open businesses all we want, but there won't be customers there to patronize the businesses. I believe we need more stimulus, I'm upset that the government and the Senate haven't acted in over six months," said Hegar.
"I not only would, I have. I was part of the bipartisan coalition, really an almost unanimous vote in the United States Senate and House to pass $3.8 trillion dollars in spending — both to fight the pandemic, the public health challenge, as well as deal with the economic consequences associated with it … but we need to do more," was Cornyn's response.
Cornyn would not support a national mask mandate to control the spread of COVID-19.
"I would not … We don't need the government to fill the void that we should fill ourselves by acting responsibly at the local level to keep each other safe and to get this economy growing again," he answered.
Hegar is for a national strategy that takes science and objective metrics into consideration.
Hegar also supports requiring COVID-19 vaccines for schoolchildren. Cornyn didn't provide a definitive answer.
Both candidates said they would get the vaccine when one is available.
Texas Tribune/University of Texas polling released on Friday showed Cornyn leading Hegar by eight points.
Hegar raised more than $13 million between July and October 6. Cornyn has not yet released his latest fundraising report.
On Friday, Hegar won the endorsement of the Houston Chronicle. Cornyn picked up the San Antonio Express-News endorsement.
It is unclear if Friday's debate will be the only matchup between the two candidates. Hegar wants a total of three debates. Cornyn has not said if he will agree to more.