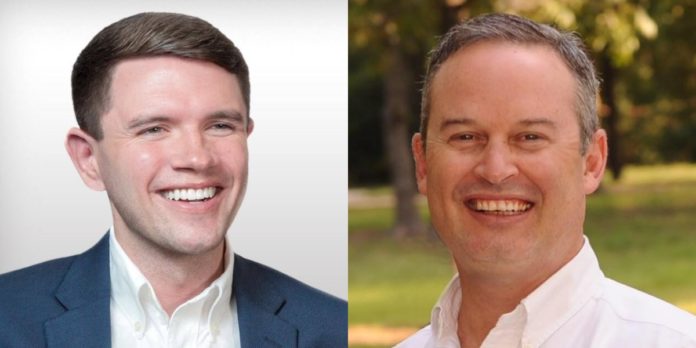 Two candidates elected to the Texas House of Representatives in special elections on November 6 were sworn in this week. One at the Capitol by House Speaker Joe Straus on November 20 and the other at a nursing facility in Denison by former state Representative and current Grayson County Judge Larry Phillips on November 21.
James Talarico (D-Round Rock) of House District 52 and Reggie Smith (R-Sherman) of House District 62 took the oath of office to serve the remaining terms of two recently retired legislators. Talarico replaces Rep. Larry Gonzalez while Smith succeeds Rep. Larry Phillips. Gonzalez chose not to seek re-election and resigned last June. Phillips similarly resigned last April to run for district judge.
Talarico, at age 29, will be the youngest state legislator at the Capitol. Straus introduced Talarico calling new members and their ideas a benefit to the State Legislature. Talarico was sworn in by Straus with the help of his mother, who held the bible on which he swore his oath.
Afterwards, Talarico gave a speech quoting John Steinbeck on how Texas is "a state of mind…an idea", how the dreams of Texas and Texans are as big and vast as the state. He called on his fellow legislators to go beyond the "narrow-minded and shortsighted" politics of the past and to help Texas endure for the centuries to come.
Reggie Smith, an attorney and two-term Chair of the Grayson County Republican Party, was sworn in by Phillips this morning at the Woodlands Nursing Facility in Denison, Texas. The swearing in was conducted at this location to accommodate Smith's father, according to Smith's Facebook page.
Together, they join to make the House complete at 150 representatives until the beginning of the next session on January 8, when 28 new house members, including Talarico and Smith, will be sworn in for full terms in the 86th legislative session.
Since Talarico and Smith won both the special general elections for their respective seats on November 6th, they will both serve out the remaining term of office and will be joining a new class of representatives in the 86th Legislature. Hopefully, both members will be committed to Reforming Austin.