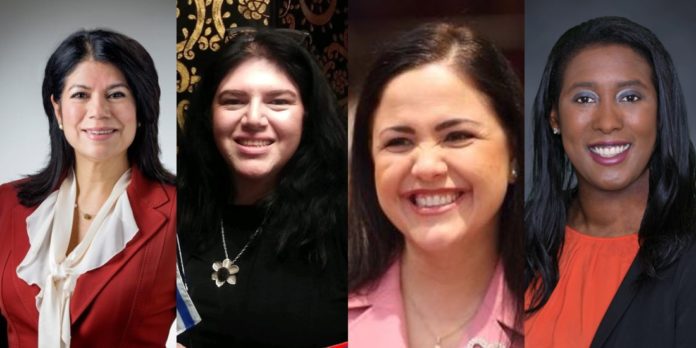 (From left to right: Carol Alvarado, Martha Fierro, Ana Hernandez and Mia Mundy)
Early vote for the special election to fill the vacancy in Senate District 6 will commence Monday, November 26th and continue through Friday, December 7th. Election Day is Tuesday, December 11th.
Early voting hours are from 8 a.m. – 4:30 p.m. for Monday, Nov. 26th through Friday, Nov. 30th; 7 a.m. – 7 p.m. for Saturday, Dec. 1st; 1 p.m. – 6 p.m, for Sunday, Dec. 2nd, and 7 a.m. – 7 p.m. for Monday, Dec. 3rd through Friday, Dec. 7th.
To see if you are eligible to vote in the election, type your address in at this website. If it says your state senator is from Senate District 6, you are eligible to vote in this election.
While the number of days and times for early vote are similar to those for a general election, the number of polling locations in Harris County are much more limited, dropping from 46 down to nine. The designated early voting polling locations are as follows:

Inside Loop 610:
Harris County Law Library – Conference Center
1019 Congress Avenue, Houston, 77002
Moody Park Community Center
3725 Fulton Street, Houston, 77009
Ripley House Neighborhood Center
4410 Navigation Boulevard, Houston, 77011
H.C.C.S. Southeast College
6960 Rusting Street, Parking Garage, Houston, 77087
Outside Loop 610:
11901 West Hardy Road, Houston, 77076
1500 Keene Street, Galena Park, 77547
101 S. Richey Street, Pasadena, 77506
Outside Beltway 8
2407 Market Street, Baytown, 77520
Harris County Scarsdale Annex
10851 Scarsdale Boulevard, Houston, 77089
There are four candidates running for the State Senate District 6 seat – three Democrats and one Republican. The Democrats on the ballot are State Rep. Ana Hernandez (D – Houston), State Rep. Carol Alvarado (D – Houston), and community activist Mia Mundy. The lone Republican on the ballot is Martha Fierro, a Harris County GOP Precinct Chair.
Again, Election Day is Tuesday, Dec. 11th.