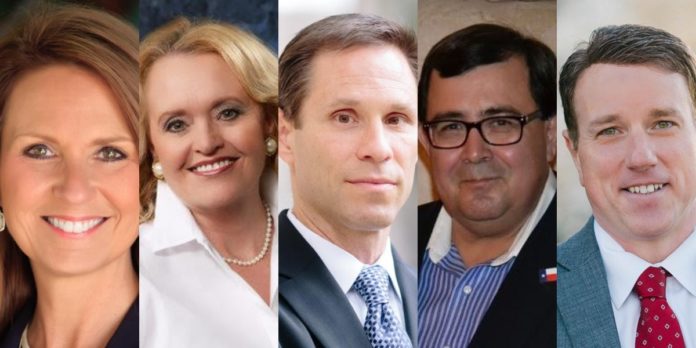 A former State Representative, a retired game warden, a musical composer, and two educators.
There are five new members joining the Texas State Senate, and sixth on the way with the special election scheduled for December 11th to fill the vacancy in Senate District 6. They come from across Texas, with a wide range of experiences and interests they will bring to the Senate.
SD-08 (Collin, Dallas) – Angel Paxton (R- Plano) is a former Texas public school, private school, and homeschool teacher, spending over a decade as an Educator and Counselor at Legacy Christian private school. Ms. Paxton also previously served on the board of the Golden Corridor Republican Women.
SD-10 (Tarrant) – Beverly Powell (D- Colleyville) works in real estate and residential development, and is the former elected Board Chair of Burleson Independent School District.
SD-16 (Dallas) – Nathan Johnson (D- Dallas) is an attorney in private practice, and music composer, who creating the soundtrack for Dragonball Z – a popular Japanese Anime series.
SD-19 (Bexar) – Pete Flores (R- San Antonio), who won a special election in September, is a retired game warden and is now a business consultant and instructor.
SD-30 (Grayson, Collin, Denton)– Pat Fallon (R- Wichita Falls) is a former Frisco City Council member, serving as Mayor Pro Tempore for a term, and a member of the Texas House of Representatives. He is also a business owner, marketing active wear and apparel.
These Senators are joining the 86th Legislature, four of whom will serve four-year terms (SD-19 and the special election to be held to fill the vacancy for SD-06 will be up for re-election in 2020). With critical issues before the legislature on school finance, property taxes, maternal health, and special education funding, hopefully these new Senators will be committed to Reforming Austin.