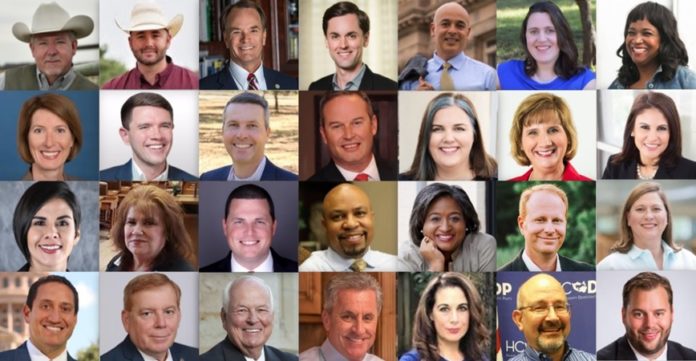 Eleven women, seventeen men. One legislator coming back after leaving to run for a different office, a former Mayor Pro Tempore, many first-time candidates. Ten lawyers, one veterinarian, a pet shop owner, four former or current teachers, and multiple small business owners.
2018 was a year of change in Texas, with 28 new members joining the Texas House of Representatives. The incoming Representatives come from across Texas and have a variety of professional backgrounds and experiences they will bring to Austin for the 86th Legislative Session starting in January, 2019.
HD-004 (Henderson, Kaufmann)- Keith Bell (R- Terrel) is a business owner, who founded an electrical contracting business.
HD-008 (Anderson, Freestone, Hill, Navarro) – Cody Harris (R- Corsicana) is a business owner, founding a farm and ranch real estate, management and development firm.
HD-015 (Montgomery) – Steve Toth (R- The Woodlands) is small business owner, specializing in pool installation.
HD-023 (Chambers, Galveston) – Mayes Middleton (R- Galveston) is a business executive and business owner, working in oil and gas – as well as managing his own agricultural operations.
HD-037 (Cameron) – Alex Dominguez (D- Brownsville) is an attorney and former county commissioner.
HD-045 (Hays, Cameron) – Erin Zwiener (D- Dripping Springs) is a political activist and organizer.
HD-046 (Travis) – Sheryl Cole (D- Austin) is a former Austin mayor pro tempore and legal attorney.
HD-047 (Travis) – Vikki Goodwin (D- Austin) is a business owner of a real estate company and has also worked as a systems analyst for the Office of the Attorney General of Texas.
HD-052 (Williamson) – James Talarico (D- Round Rock) is a former public-school educator.
HD-054 (Bell, Lampasas) – Brad Buckley (R- Killeen) is a veterinarian by trade and serves on an independent school district board.
HD-062 (Delta, Fannin, Grayson) – Reggie Smith (R- Sherman) is a lawyer and owns a law firm.
HD-065 (Denton) – Michelle Beckley (D- Carrollton) is a pet store owner.
HD-089 (Collin) – Candy Noble (R- Parker) is a community volunteer and serves as parliamentarian for her county GOP.
HD-102 (Dallas) – Ana-Maria Ramos (D- Dallas) is a self-employed attorney with her own law firm, as well as a college associate professor.
HD-104 (Dallas) – Jessica Gonzalez (D- Dallas) is an attorney and works as partner for a law firm.
HD-105 (Dallas) – Terry Meza (D- Grand Prairie) a former public school teacher and owns a law practice.
HD-106 (Denton) – Jared Patterson (R- Prosper) is a business executive and serves as director of energy services.
HD-109 (Dallas) – Carl Sherman Sr. (D- DeSoto) is a business owner and a former DeSoto Mayor.
HD-113 (Dallas) – Rhetta Andrews Bowers (D- Sunnyvale) is a part time educator and community activist.
HD-114 (Dallas) – John Turner (D- Dallas) works for a law firm and has served on various civic boards.
HD-115 (Dallas) – Julie Johnson (D- Irving) is an attorney and owns a law firm.
HD-116 (Bexar) – Trey Martinez Fischer (D- San Antonio) is a former state representative, and an attorney who owns his own law firm.
HD-118 (Bexar) – Leo Pacheco (D- San Antonio) is a college human resource specialist and has taught public administration, management, and labor relations as an adjunct professor.
HD-121 (Bexar) – Steve Allison (R- San Antonio) is a business attorney and former school board member.
HD-126 (Harris) – Sam Harless (R- Houston) a business owner and general manager of an automobile dealership.
HD-132 (Harris) – Gina Calanni (D- Katy) is a paralegal working for the Travis County Attorney's office and volunteers with organizations tasked with fighting against sex trafficking and providing services to survivors.
HD-135 (Harris) – Jon Rosenthal (D- Houston) is a career engineer and has worked in various capacities within the oil and gas field.
HD-136 (Williamson) – John Bucy (D- Cedar Park) is a small business owner whose organization provides access to sport and extracurricular activities for public schools without the necessary resources.
These election winners are joining a new class of representatives in the 86th Legislature and hopefully will be among the members of House committed to reforming Austin.