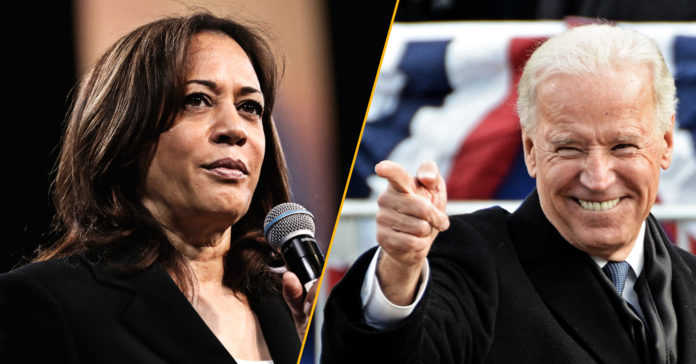 As the Democratic Party makes it official at its national convention this week, the eyes of Texas Democrats will be on the Biden-Harris ticket as their best shot at the win column for president since Jimmy Carter was elected in 1976.
Before former Vice President Joe Biden announced his choice of California Sen. Kamala Harris as his running mate, national polls showed Biden with a commanding lead over President Donald Trump but a tighter race in Texas, with Trump leading. 
Texas Democrats are buoyed by having Harris on the ticket and hope that she will help end the state's long streak of losing Democratic presidential candidates and contribute to flip down ballot seats in November.
"Kamala Harris is the perfect candidate for the moment and the perfect candidate for Texas Democrats, said Abhi Rahman, strategic communications director for the Texas Democratic Party. "Her ability to connect with voters in the changing American electorate is what is going to carry us to victory in November."
As a presidential contender in a crowded field of hopefuls, Harris's presidential bid fizzled before the first primary votes were cast. But now Democrats see her as someone with the skills and background to unite the party.
"She will definitely help to increase voter turnout and create a lot of excitement for the South Asian community that has never had the possibility of leadership at the top, the African American community and women" said Nancy Sims, an adjunct professor of Women in Politics at the University of Houston. "She brings a lot, especially from the urban perspective, where you have large diverse cities in Texas."
Texas Republicans see it differently.
"In Texas, we do not want the failed economic policies of California — nor its far left progressive socialism — in the Lone Star State," Allen West, chairman of the Republican Party of Texas, said in a statement. "The radical left demanded that Joe Biden choose a Black female for his VP running mate."
"For them, it's about identity politics not character," West said. "Sen. Harris has done nothing to resolve the issues facing the American Black community, or for that matter, Americans, period."
Black Texans
Among those who stand to benefit greatly from a Harris assist is MJ Hegar, the Democratic challenger to U.S. Sen. John Cornyn.
Home to the largest Black population in the U.S., the more popular choice among Black Texans to challenge Cornyn was State. Sen. Royce West of Dallas.
The July 14 Democratic primary runoff was held in the wake of the death of George Floyd while in custody Minneapolis police. West and his supporters were hoping to channel the energy and momentum of the Black Lives Matter protests to sweep him to victory over Round Rock resident Hegar, a former Air Force helicopter pilot.
But Hegar, the frontrunner coming out of the March 3 Democratic primary, maintained her lead and defeated West.
"The Black community really didn't know anything about her," said Michael O. Adams, professor and interim chair of political science in the Barbara Jordan-Mickey Leland School of Public Affairs at Texas Southern University.
By immediately reaching out to West's supporters, Hegar began to connect with Black Democrats. About a week before Biden announced that he had chosen Harris as his running mate, Harris issued an endorsement and fundraising appeal in support of Hegar and other Texas Democratic candidates.
"More and more, polls show that we have a real shot at ending our national nightmare in November – to get Trump out of office and elect Joe Biden," Harris stated. "We also have a real shot at flipping the biggest battleground state in the country: Texas."
Harris' appeal to people across different demographic groups, and particularly women of color, a powerful and growing bloc of voters, makes her the right choice to help consolidate the party, Adams said.
"I think she is the best pick (Biden) could have made," Adams said.
Yet, she has detractors who have criticized her decision-making as a former prosecutor and California attorney general in cases involving police brutality. But she also rallied the support of some of those critics as an outspoken supporter of police reforms while serving in the Senate.
As Trump makes law and order a signature tenet of his campaign, Harris' law enforcement career could resonate with swing voters.
"Her background as a prosecutor and former California attorney general would make her hard to characterize as weak on crime or insufficiently supportive of police," said Cal Jillson, professor of political science at Southern Methodist University. "Republicans will, of course, characterize her as foreign, a radical socialist and generally dangerous."
2020
Aside from her other assets, Harris brings a proven track record of fundraising, which will help Biden and other Democrats in their battles against well-financed Republican opponents. Her connections to wealthy California donors helped her raise $40 million for her own presidential campaign and could be pivotal in generating funds for White House run with Biden.
"Research tells us that a vice presidential choice does little to sway voters," said Renee D. Cross, senior director of the Hobby School of Public Affairs and a lecturer at the University of Houston. "However, as with everything else this year, 2020 could be different.
"Harris' background plus her credentials and campaign prowess should help drive women, Black and South Asian voters as well as other Democrats to the polls, which will help down-ballot races," Cross said. "The increased turnout will likely be especially pronounced in highly diverse areas such as Fort Bend County, which has a competitive Congressional race and a state House race."