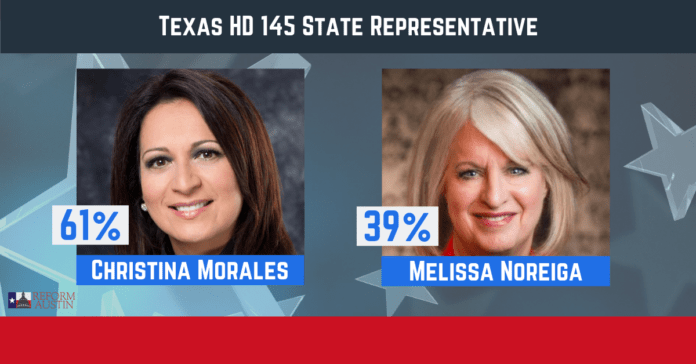 Results for Houston House District 145 runoff election came to a close Tuesday night.
Small businesswoman Christina Morales won the runoff for House District 145, receiving 1,824 votes (60.8 percent) against former Houston City Council member and former State Rep. Melissa Noriega, who received 1,176 votes (39.2 percent).
Voter turnout in the special election was sparse. Just 3,002 (4.1 percent) of House District 145's 73,506 registered voters cast a ballot in the election. Four-hundred sixty-six special election voters (15.5 percent) cast their ballot by mail, while 995 (33.1 percent) voted early in person. One thousand five hundred forty-one voters (51.3 percent) voted on Election Day – Tuesday, March 5.
The special election was first called by Gov. Greg Abbott to replace Carol Alvarado (D-Houston) after she won a December election for Texas Senate District 6.
House District 145 is located in Harris County, and runs diagonally along Interstate Highway 45 from Houston Heights to Southbelt/Ellington, picking up the Greater East End, parts of Pasadena, and the city of South Houston.
Once Morales is sworn in, the House complement of members will be brought to 149, with 83 Republicans and 66 Democrats.

The last day to file bills for the 86th regular session is March 8.
Early voting in the special election runoff for House District 125 in San Antonio is currently underway. Election day is March 12.
Reform Austin will continue to follow and report on developments related to Texas House District 125 and the current 86th legislative session.