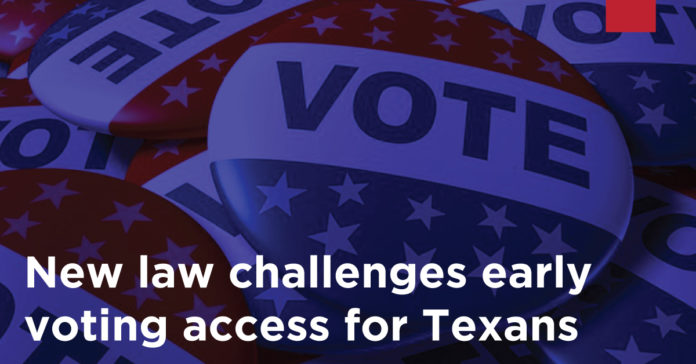 Over the last several election cycles, Texas voters across the political spectrum seem to agree on one thing—most of us really like early voting. That's why it's unfortunate that the 86th Legislature passed a bill that would restrict early voting locations across the state, making it more difficult for some to vote.

In counties where in-person early voting is available, Texans take full advantage of the practice to have their votes cast well ahead of election day. Since 1996, the share of Texans who vote early has nearly tripled, and made up almost 40 percent of votes cast in the 2018 elections.

Yet despite the popularity of early voting, legislators aim to eradicate the flexibility of Texas counties to establish mobile and temporary early voting centers via House Bill 1888, signed by Gov. Greg Abbott and taking effect September 1, 2019.

The bill demands that temporary voting locations must be open for the same amount of hours as early voting locations counties designated as "main" locations. In the past, mobile and temporary voting centers helped provide better voting access to rural and under-served communities in Texas, including college students and the elderly.

The new law will affect temporary voting locations like nursing homes and assisted living facilities, as rolling voting options would now have to be permanent for the entire early voting time frame. The financial burden of keeping facilities open for this length may mean counties and cities can no longer afford these options, which means the new law could discourage voters with limited access to transportation.

Additionally, in the past, counties could determine where to base temporary branch polling places according to demand and wait times as well as more rural areas which don't have consistent access.

As we approach the 2020 elections, it's clear that the Texas legislature doesn't seem to have equal access to the ballot box in mind for all Texans. If anything, let's hope that laws like this one can be used to motivate more Texans to show up and vote so their rights will not be curtailed in Austin.