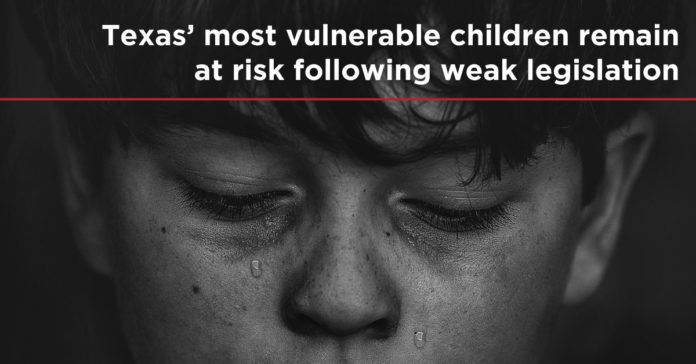 While the 86th Texas Legislature focused on public education and school finance, Texas' most vulnerable children remain at risk.

The Attorney General of Texas Ken Paxton's own site states that there are "79,000 victims of youth and minor sex trafficking in Texas at any given time." Though the Texas government acknowledges the problem and hired a Director of Human Trafficking Prevention in late 2017, legislators still fail to combat a key fundamental issue at the root cause: focusing on the child welfare system.

Advocacy organizations like the Texas Network of Youth Services and Texas Alliance of Child and Family Services suggest that the key to fighting child sex trafficking means "protect[ing] young people from entering into situations that make them vulnerable," which "includes bolstering foster care services and services for youth experiencing homelessness."

While it may feel like these are separate issues, the ineffectiveness of support and funding for the foster care system pushes many young people into situations where they are more vulnerable to these sex trafficking and sex abuse situations. According to the Texas Department of Family and Protective Services, those most at risk of human and sex trafficking are "homeless, runaways and at risk youth" who almost always have an unstable home enviornment.

Solutions for the issue of trafficking our youth are hard to come by in Texas. The legislature seems to pick a topic to tackle every session, allowing other issues to fall by the wayside.

Despite passing a law that focuses on school administrator training to help support some administrators in the effort to "identify and report potential victims," and requiring school districts to expand a policy addressing sexual abuse, sex trafficking and other maltreatment of children to include specific information regarding students with cognitive disabilities, the impact of the Texas trafficking issue won't be affected significantly.

Although these moved the needle towards success, there was a lack of a significant reform to the state's child sex trafficking problem. Training for school staff—even if it's just 2 ½ hours every five years—is a step in the right direction if teachers and administrators can better recognize signs of abuse or maltreatment—especially since children spend a significant amount of time at school. However, that doesn't do anything to end the systemic issue itself.

The state government has a responsibility to stop trafficking and sex abuse before children are exploited, which means focusing on the child welfare system. Texans deserve preventative solutions to this severe issue, not reactive management.