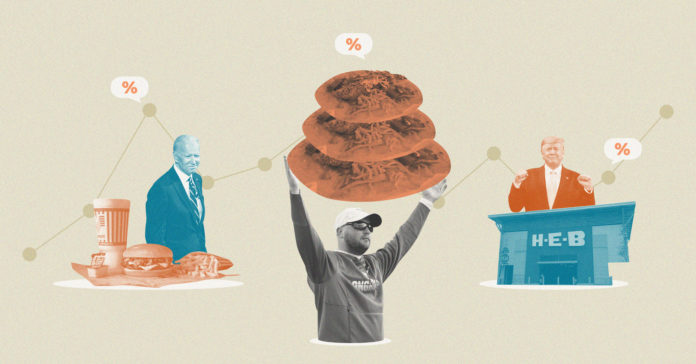 A new poll from the University of Massachusetts Lowell Center for Public Opinion shows President Donald Trump and former Vice President Joe Biden in a close race in Texas. It also provides favorability ratings on some not-so presidential subjects like queso, Whataburger, Alamo Drafthouse and H-E-B grocery stores.  
Here are some stats that stood out.
Presidential Race
When asked who they would vote for if the election were held when the poll was taken, Sept. 18-25, 49% of respondents chose Trump, 46% picked Biden, and the remaining 5% were undecided or chose another candidate. The poll's margin of error is 4.3%.
When it comes to the qualities of the two candidates, a greater number of those surveyed said Biden would do a better job of handling the COVID-19 pandemic.
When it comes to who is better suited to handle the economy, 51% chose Trump.
When it comes to who will better handle America's reputation abroad, the poll respondents were evenly split.
A greater number of respondents said Trump is better suited to handle police reform, while Biden wins when it comes to health care and race relations.
When asked if they think the next Supreme Court justice should be nominated by the current president or the winner of the 2020 presidential election, more than half of those surveyed said it should be up to the winner in November.
Texas Culture and Food
Texas and football could be one word, although 58% of those surveyed did not recognize the name Tom Herman. He is the head football coach at the University of Texas.
Queso is a Texas staple, but 10% of respondents said they had never heard of it. Also, tacos are a loved food, but 32% of respondents never heard of Torchy's Tacos.
While 27% of respondents never heard of the Alamo Drafthouse, 5% were not familiar with In-N-Out Burger. All but 1% of respondents, however, know about Whataburger, and 84% have a favorable opinion of the Texas fast food chain.
Apparently not everyone in Texas knows about H-E-B supermarkets. The poll takers reported that 2% of respondents said they hadn't heard of the Texas chain.