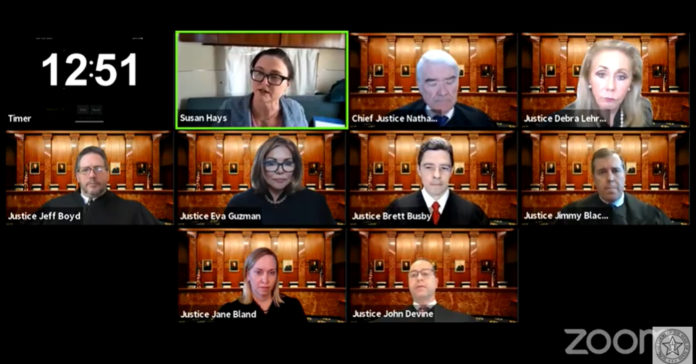 The Texas Supreme Court convened via Zoom on Wednesday to hear arguments for and against sending mail ballot applications to all 2.4 million registered voters in Harris County. 
Presenting for the state, attorney Kyle Hawkins attempted to convince the court that there is nothing in state law that authorizes Harris County Clerk Chris Hollins to follow through with his plan. He said voters are required to request mail ballots. The applications are not sent to voters unsolicited.
"In previous elections, we have never seen what we are seeing here where applications to vote- by mail are being sent en masse — hundreds of thousands or even millions — to people who have never asked for them and are probably not eligible to vote by mail," Hawkins said.
Susan Hays, Harris County's attorney, told the court this is no ordinary year. Arguing that the Texas Election Code was not written to limit access to voting, she said there is nothing that prohibits the clerk providing the applications, especially if it will help make the election safe this year.
"If you read these individual sections, we win," she said. "A statute that says we have to give an application to someone if they ask doesn't prohibit implicitly giving it to people because we think it is a good management practice and it will help make this election safe this November."
Hollins has already sent mail ballot applications to all county residents over the age of 65. The state's high court ordered him to refrain from sending out the rest of the applications while it considers the merits of an appeal filed by Texas Attorney General Ken Paxton's office. 
Paxton wants the court to overturn a lower court decision that granted Hollins the right to proceed. According to the attorney general, the county's plan would violate state law and incite fraud, an oft-repeated claim made by President Donald Trump as he attempts to create public confusion and uncertainty about the integrity of the mail ballot system ahead of the November election. 
In Texas, only those 65 or older, disabled people and residents who will be out of town during early voting and on Election Day are eligible for mail voting. 
In response to another case that sought to expand mail-in voting to all Texans during the pandemic, the Texas Supreme Court found that a voter can take the possibility of being infected with COVID-19 into consideration along with their "health" and "health history" to determine whether they qualify to vote by mail under the disability provision of the law. No one is authorized to ask a voter to prove how they qualify.
The court's decision in the latest case is pending following today's arguments.