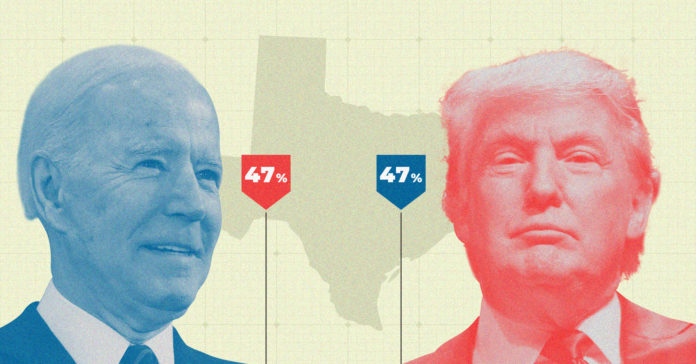 In the home stretch of the 2020 campaign, former Vice President Joe Biden and President Donald Trump are tied 47% to 47% in Texas, long a reliably red state, according to a new Quinnipiac University poll. This compares to the school's Sept. 24 poll of likely voters in Texas when Trump had 50% and Biden had 45%.
Among Texans who plan to vote in person on Election Day, 62% support Trump and 32% support Biden.
Among those who are voting by mail or absentee ballot, 63% are with Biden and 31% back Trump.
Among those who are voting at an early voting location, 48% support Biden and 46% support Trump.
"Biden and Trump find themselves in a Texas standoff, setting the stage for a bare-knuckle battle for 38 electoral votes," said Quinnipiac University Polling Analyst Tim Malloy.
Likely voters have mixed views of both candidates, but opinions of Biden have improved since last month.
Today, they give Biden a mixed favorability rating, with 44% saying favorable and 46% saying unfavorable. This compares to a negative 41-52% favorability rating in the Sept. 24 survey.
Trump also gets a mixed rating, with 48% saying favorable and 47% saying unfavorable, essentially unchanged from his September score.
Likely voters are also mixed on whether either candidate has good leadership skills. For Biden, 48% say yes and 46% say no. For Trump, 49% say yes and 48% say no.
More respondents believe Biden cares about average Americans than Trump — 56% for Biden and 51% for Trump.
Voting in 2020
Sixty-nine percent of likely Texas voters say they plan to vote early, while 18% say they will vote in person on Election Day. Just 12% say they have voted or plan to vote by mail or absentee ballot.
On Trump's Job and Coronavirus
Likely voters are split on the way Trump is handling his job as president, with 49% approving and 48% disapproving. That is basically unchanged from September.
On Trump's handling of the coronavirus response, likely voters give him a slightly negative approval rating, with 46 percent approving and 51 percent disapproving. That compares to a split score in September, when it was 49-49 percent.
Cornyn vs. Hegar
In Texas' U.S. Senate race, incumbent Republican John Cornyn (R-Houston) leads Democratic challenger M.J. Hegar, 49-43%. Seven percent are undecided. On Sept. 24, Cornyn had 50% support and Hegar had 42%, also with 7% undecided.
"While Cornyn maintains a lead, there are still two weeks to go, and you can't count Hegar out," added Malloy.