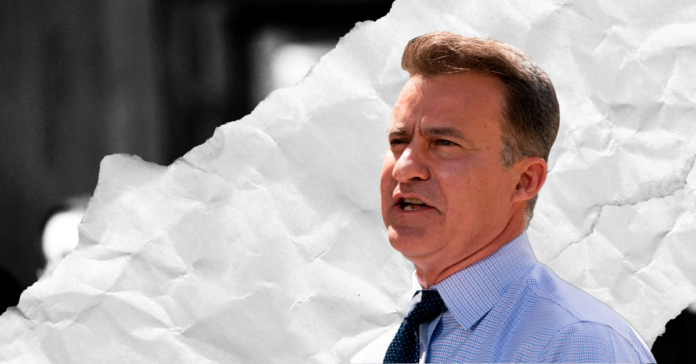 On Monday, State Sen. Roland Gutierrez (D-San Antonio) announced that he will run for the U.S. Senate to unseat Sen. Ted Cruz (R-Texas), who is seeking a third six-year term.
In the campaign launch video, Gutierrez spoke about how the Rob Elementary shooting in Uvalde shaped his decision to run against Cruz. He singled out Cruz's trip to Cancun during the 2021 winter storms in Texas and also mentioned political scandals and bill hostage situations in the Texas Legislature.
Gutierrez on Monday afternoon also held a closed-door fundraising call, sources told RA News.
In the meeting, the Texas Senator discussed what work is ahead of him in the upcoming primary and what prompted him to run for the U.S. Senate. Saying he is not a "one issue candidate" and how the failures of the Rob Elementary shooting went beyond just that day.
"We have to be able to talk about the neglect that we are experiencing, not just in rural Texas but in Texas in general," he said during the meeting. "Here we are in the state with the most, with the greatest resources, one of them for sure…and yet we have poor education outcomes and poor health outcomes and infrastructure outcomes."
Gutierrez went on to talk about how even after twelve years in office, Cruz has never talked about "anything positive" for Texas. He went on to recall Cruz's voting history on bills such as the Infrastructure Bill, the Debt Ceiling and the Safer Communities Act, all of which he voted against.
The state Senator also went on to talk about messaging on gun issues.
"We have to make sure that we have common-sense gun solutions. extreme risk protective orders, raising the age limit, closing the gun show loophole," he said.
In May, while Gutierrez faced resistance in the Republican-led Legislature, he was able to pass a bill through the House committee to raise the minimum age to buy a semi-automatic rifle from 18 to 21. The bill did not advance further.
He went on to say that when we look at the state and country as a whole, Cruz stands in the way of Texans getting infrastructure money and making communities unsafe by voting against the Infrastructure Bill and the Safer Communities Act, respectively.
"We just have to have leaders in office that are serious people. This guy's not a serious person. He spent the whole weekend talking about Disney, Barbie and a map of China on a wall in a movie," he said.
Democrats have not won a statewide election in Texas since 1994. In 2018, Beto O'Rourke came close to defeating Cruz, losing by just three points. The party has not had much success with the statewide elections since.
"We all know how Beto took us to about a 280,000 difference in the last time that we ran against Cruz. Cruz hasn't done himself any favors. People still don't like him very much," Gutierrez said in the meeting. "But I really believe that the future of how we beat him is with a candidate that can speak to the issues of South Texas that can inspire Hispanics to vote at a different place along the border."
Gutierrez is set to face U.S. Rep. Colin Allred (D-Dallas) in the Democratic primary for the seat. Allred has already raised a little more than $8 million (two of which came from his House campaign account). 
Allred's campaign dismissed primary opponents' talk, saying that Allred is laser-focused on defeating Cruz.
State Rep. Carl Sherman (D-DeSoto), is also considering running for the U.S. Senate.
"We do have a primary opponent (Allred) who's done good work and raising money. I think that we have a different kind of message. I think that we have a message that's going to be it's going to resonate with Texans a little bit more so that we can win the general. I'm not running for ambition," he said. "…I'm running because I've felt compelled to keep fighting for some change."
Gutierrez began his career in the Texas Legislature, in the House before winning an election for the state Senate in 2020. As his current seat will not be on the ballot until 2026, he does not need to give it up to run against Cruz in 2024.