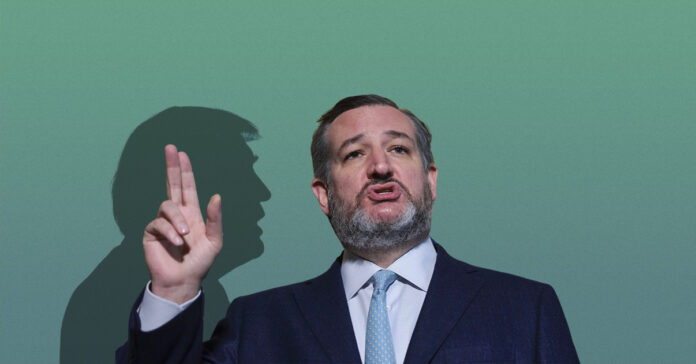 A recent Washington Post article revealed Sen. Ted Cruz has gone to extreme lengths in order to stay in former president Donald Trump's good graces. As a result, he has alienated his allies, derailed from his principles, and raised questions for congressional investigators.

The price to pay

On Monday, a federal judge ordered John Eastman, an attorney, and ally of Trump, to turn over a cache of documents to the House select committee investigating the Jan 6. insurrection.

According to Axios, Judge David Carter wrote that Eastman and Trump "launched a campaign to overturn a democratic election, an action unprecedented in American history."

The committee believes the documents will expose Trump and his allies, thus proving they were involved in a "criminal conspiracy to defraud the United States," according to previous court filings for this case.

When looking closely at Trump's allies, Cruz played a paramount part in trying to block or delay certifying Biden's victory.

The real interest surrounds Eastman and the senator's relationship, for which there is little public notice. But, Cruz's proposal ran on a parallel track and played an influential role in Eastman's key legal memos that outline a scenario in which Vice President Mike Pence could deny certifying Biden's election – in one occasion Eastman's memo mentioned the possibility that Cruz could be the senator to delay certification.

Both have denied being in contact during that time. 

A lawyer from the Jan 6. Committee asked if "there had been any communication with Cruz regarding the outcome of the 2020 elections," Eastman invoked his Fifth Amendment right against self-incrimination to avoid answering.

Meanwhile, the senator's spokeswomen claimed that "to the best of his recollection," Cruz had not read the Eastman memo until months after the Jan. 6 incident, when it became a public record.

I WON THIS ELECTION!

On the evening of Dec. 8, 2020, as votes piled up in Biden's favor, Trump tweeted: "I WON THIS ELECTION, BY A LOT!" At around the same time of the tweet, Cruz received an urgent call from the president asking for help.

According to the Washington Post, a lawsuit had just been filed at the Supreme Court designed to overturn the election Trump had lost, and the president needed the Texas republicans support.

"Would you be willing to argue the case?" Trump asked Cruz, as the senator later recalled it.

Cruz agreed to lend Trump a hand, marking a radical shift in their relationship.

During the 2016 presidential campaign, Trump had called Cruz "the single biggest liar I have ever dealt with in my life" and attacked Cruz's wife and father. Meanwhile, Cruz called Trump an "arrogant buffoon," and refused to endorse the nominee at the Republican National Convention.

But, that evening his phone rang, Cruz saw an opportunity and forged a new alliance that would ultimately shock all his aides.

Willing to do whatever the President wanted, that night Cruz amplified Trump's stolen-election claims on the Fox News show hosted by Sean Hannity. Telling millions of viewers that Democrats were "defying the law because they didn't want GOP observers to see ballot counting."

In the weeks that followed, as Trump allies lost a string of election cases, Cruz proposed a more effective legal strategy, and failed.  

In his efforts to represent Pennsylvania to block certification, the Supreme Court rejected him, and then rejected him again when he tried to push a case filed by Texas Attorney General Ken Paxton, who argued his state had standing to ask the court to throw out election results in Georgia, Pennsylvania, Michigan, and Wisconsin.

With every request The Supreme Court denied, Cruz lost credibility and allies.

Rep. Chip Roy (R-Tex.), who had served as Cruz's chief of staff and was a former first assistant attorney general in Paxton's office, had tweeted that the case represented "a dangerous violation of federalism" that would  "almost certainly fail."

Another adviser said he called Cruz to express dismay, telling the senator it went against the principles on which he built his political brand.

However, Cruz didn't stop there. On Jan. 2, 2021, he unveiled his plan for states to start an "emergency 10-day audit," backed by 10 other senators. His plan was met with ridicule, even from some of Trump's closest supporters.

"Proposing a commission at this late date — which has zero chance of becoming reality — is not effectively fighting for President Trump," Sen. Lindsey O. Graham (R-S.C.) said on Twitter.

It all went downhill from there.

On Jan 6. Cruz made his way toward the Capitol to be the first Senator to object to the electoral college results. In his speech, the senator stressed that he objected to "all six of the contested states" and urged approval of his audit plan.

Cruz's efforts to reject the Arizona results failed by a vote of 93 to 6. At the same time rioters had already begun to storm the Capitol. It was obvious his path to overturning the election was over, but Cruz was desperate enough for Trump's approval and decided to continue with his plan to object to the Pennsylvania results.

The effort failed by a vote of 92 to 7.

Losing Allies?

In the days that followed, those closest to Cruz cut off their ties to him.

Carly Fiorina, who Cruz said he would have picked as his 2016 running mate, tweeted on Jan. 8, 2021, that "we must hold people to account," not just those who stormed the Capitol, but also "those who actively enabled this clearly unacceptable behavior like Senators," including Cruz.

Chad Sweet, the former chairman of his 2016 presidential campaign, wrote in a  LinkedIn post that "Donald Trump and those who aided and abetted him in his relentless undermining of our Democracy — including Senators Josh Hawley and Ted Cruz — must be denounced."

In his latest iteration of his career, Cruz positions himself around the president in a desperate attempt to cling for power. Focusing only on a short-term political gain, the senator has managed to abandon all principles, isolating himself and putting his reputation on the line. Cruz was blindsided by his ultimate goal: being president of the United States.

And even though Cruz failed to overturn the election, he did set a dangerous precedent, and his focus on the power of state legislature has influenced efforts by Republicans across the country  on the way votes are tallied.