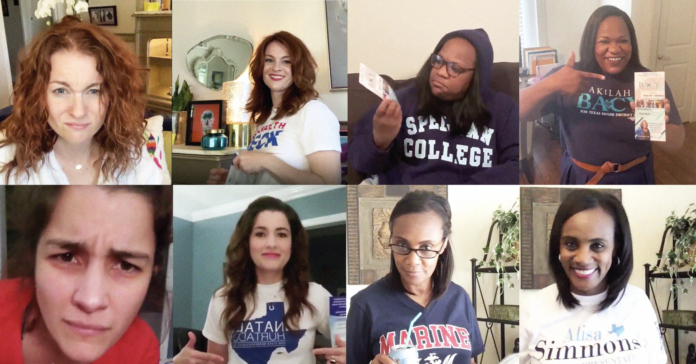 Have you seen the "Like a Girl" video featuring women running for Texas House?
Last week, Elizabeth Beck, who is running to represent Texas House District 97, shared a video set to Lizzo's hit song "Like a Girl" on Twitter. The thread soared with optimism for 2020 from Beck's words, "Woke up early feeling like I just may run for State Representative!!- @Lizzo … Shoutout to my girls running for the #txlege: @AkilahBacy @NataliforTexas @alisafortexas  #FlipTheTexasHouse #RunLikeAGirl #StayAtHome."
Woke up early feeling like I just may run for State Representative!!- @Lizzo… Shoutout to my girls running for the #txlege: @AkilahBacy @NataliforTexas @alisafortexas #FlipTheTexasHouse #RunLikeAGirl #StayAtHome pic.twitter.com/h07RhSI3Jc

— Elizabeth Beck (@elizabethforTX) April 8, 2020
The video has been quickly getting attention. It has been retweeted more than 1,800 times and has had over 220,000 views. Campaigning is going digital very quickly, and these candidates are in the groove. In the video, they are seen showing off their campaign flyers and a little of what they are doing while staying at home during the COVID-19 pandemic. They are on a mission to flip the house in 2020.
Lizzo's positive attitude and catchy songs resonate with several candidates in the 2020 election.
With Houston roots, Lizzo was born Melissa Jefferson and attended Alief Elsik High School. Texas Monthly described her journey last year and explained that her nickname, "Lizzo," was born from "her persona in her teenage rap trio Cornrow Clique." Lizzo opened the 2020 Grammy Awards, and she won three that night.
The candidates' video starts with Beck waking up and stretching in her robe, with her curly red hair tousled as she takes a sip from a colorful coffee cup and smiles while placing her campaign flyer up close to the screen to the lyrics, "Woke up feelin' like I just might run for president. Even if there ain't no precedent, switchin' up the messaging."
When she pulls the flyer back, she's freshly rebooted, her hair is blown out, campaign T-shirt ready and empowered by the lyrics "I'm about to add a little estrogen."
"I'm a huge extrovert who has been at home for over a month now. I found myself really missing the campaign trail and connecting with others. That's when a late-night #dontrushchallenge TikTok binge turned into an idea, and I reached out to several amazing fellow candidates I developed friendships with during this journey," Beck wrote Monday in an email about the video.
"As it turns out, I wasn't the only candidate with a big dose of cabin fever missing the campaign trail. It was really just a fun way for us to connect and support each other" she wrote.
All four women in the video appear to be having fun.
Akilah Bacy is running for state representative in House district 138, in West Houston. Natali Hurtado is running to be state representative for House District 126. And Alisa Simmons is running for Texas House District 94. 
"I'm incredibly excited to be in the company of such strong and accomplished women like Akilah, Natali, & Alisa, but they are just the tip of the iceberg —Texas has the strongest slate of candidates up and down the ballot that I've seen. That collective strength is going to bring significant change to Texas in 2020, and I think you will see women leading that charge like we did in 2018."
Beck offered advice to women thinking about running.
"Throw yourself into the arena, and never look back. You CAN still be there for your children and your family while you campaign. People WILL donate to you, volunteer for you, and vote for you. You ARE qualified," she wrote.
The video has gotten positive comments on Twitter such as" Great job ladies love this," "I wish I could vote in Texas! You go, girls!" "This was wonderful. Go for it ladies. May you all win" and "Texas women take over the Lege this November! Grand slam score with these 4! "
Former U.S. Rep. Beto O'Rourke retweeted Beck's video post.  

"Meet some of the amazing women running for the Texas legislature. They're going to make us proud, working to expand access to health care, reduce gun violence, combat climate change, reform criminal justice and ensure all Texans' votes matter when it comes to redistricting!" he wrote.
Meet some of the amazing women running for the Texas legislature. They're going to make us proud, working to expand access to healthcare, reduce gun violence, combat climate change, reform criminal justice and ensure all Texans' votes matter when it comes to redistricting! https://t.co/AoARJACtkq

— Beto O'Rourke (@BetoORourke) April 13, 2020
Hey @DrewWaterloo!!! Part of the all-star team @FliptheTXhouse! 🙌💃

— Natali Hurtado (@NataliforTexas) April 10, 2020
Texas women take over the Lege this November! Grand slam score with these 4! #txlege #runlikeagirl @TarrantDems

— BL McLaughlin (@BethLlewMc) April 10, 2020
I wish I could vote in Texas! You go, girls! #RunLikeAGirl #FlipTheTexasHouse #strongwomen

— Jamie Schler (@lifesafeast) April 11, 2020
The only correct presidential candidate walk-out song is Lizzo's "Like A Girl." https://t.co/z6gOmuDGxq

— Scott Bixby (@scottbix) June 10, 2019
This was wonderful. Go for it ladies. May you all win.

— Milenaac (@milenaac) April 9, 2020