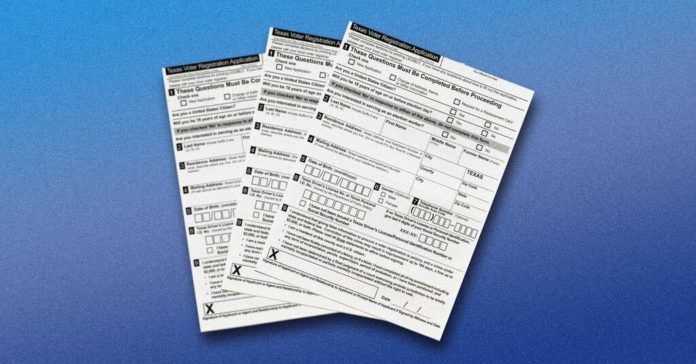 With polls showing the race between President Donald Trump and Joe Biden neck-and-neck in Texas, the Texas Democratic Party launched Monday what could be the biggest weeklong voter registration effort in the party's history. The goal of Texas Voter Registration week is to reach out to one million unregistered Texas voters in the span of just one week. The effort will target younger voters and voters of color — two groups believed to be key to a Democratic victory in Texas in November.
"The Texas Voter Registration Week is game-changing and could be the difference between Texas Democrats winning and losing in November," said TDP Voter Expansion Director Luke Warford in a statement issued by the party.
Texas Voter Registration week will involve phone-banking and text messages and is being coordinated with help from the Biden and MJ Hegar for U.S. Senate campaigns.
"We're excited our volunteers are working across Texas to register so many new voters. By mobilizing millions of Texans this November we will elect servant leaders up and down the ballot who embody Texas values," Hegar stated.
The Trump campaign expressed doubts that the Democrats will have any impact.
"Texas Democrats' claim is a comical attempt to gain relevancy in a state they have no chance of winning," Trump Victory spokeswoman Samantha Cotten was quoted as saying in the Dallas Morning News. "With no serious infrastructure on the ground and only campaigning online, Joe Biden and Democrats are delusional to think they can compete with Trump Victory. Our sophisticated, permanent data-driven ground game has been in place for multiple cycles and cannot be matched."
Texas Voter Registration week follows earlier efforts by TDP to send 1.75 million vote-by-mail applications to voters who are already registered and eligible to cast their ballots by mail.
The party's case to expand by-mail voting to all Texans during the pandemic is still pending in the courts. The 5th Circuit Court of Appeals heard arguments in the federal case Monday. The case hinges on whether Texas' mail voting restrictions violate the 26th Amendment of the U.S. Constitution.
"The 26th Amendment was adopted in 1971 for the purpose of prohibiting denial or abridgement of the right to vote on the basis of age and so we asked the court today to enforce that Constitutional amendment in time for this next presidential election," said Chad Dunn, TDP's attorney.
The state of Texas argues there is no Constitutional violation and because of that the federal courts lack jurisdiction to decide the matter.
The appellate court did not provide a specific timeline for its ruling, saying only it would move quickly. Regardless of when the ruling comes, an appeal to the U.S. Supreme Court is expected, which could push the resolution of this case beyond the November election.
Texas law allows voting by mail for anyone 65 or older, disabled people and those who will be away from their county of residence on Election Day and during early voting.
In a separate case filed in state court, the Texas Supreme Court left it up to individual voters to decide whether they have a disability.
Oct. 29 is the last day to apply to vote by mail. You can find out more on making sure your vote is counted here.