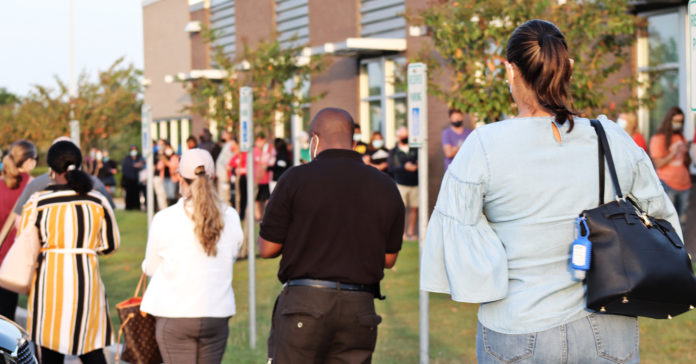 It appears that the pandemic is not scaring Texas voters away from the polls. Hundreds of thousands of them waited for hours in long lines to do their civic duty on the first day of early voting on Tuesday, breaking turnout records all across the state.
The Texas Secretary of State's office was still tallying the first day totals as of mid-morning Wednesday, but calculations by the Houston Chronicle indicated more than 1 million of the state's 16.9 million registered voters either cast their ballots in person or returned mail ballots on Tuesday. That is about double the votes cast on the first day of early voting for the 2016 presidential election.  
Although still not ready to venture out to restaurants, Houston resident and health care worker Regina Cuchapin wasn't going to let COVID-19 keep her away from voting.
"I think that now that people know how serious it is and what precautions to take, I think those who are ready to come out are taking those precautions," said Cuchapin, in speaking with the Associated Press.
Harris County was the clear winner in the record-setting competition yesterday, with nearly 170,000 early voters, 128,000 who voted in person and the rest returned their mail ballots. In 2016, the county had a first-day total of 130,000 for both in-person and mail ballot voting.
By far, Harris County also has the most comprehensive voting accessibility plan with extended hours, triple the number of polling sites and drive-thru and curbside voting. The Harris County GOP went to court Monday to try to halt the curbside option, but the case was quickly dismissed by a state appellate court.
"The GOP's sloppy petition was not meant to be a serious legal argument. It was aimed at manufacturing chaos to chill drive-thru and curbside voting to cast a cloud of confusion at the polling site," said Ginny Goldman, a representative of Texas Right to Vote Network. "Texas voters can see through the smoke and mirrors, and I'm glad that the judges did as well. Our homegrown voter power broke records on the first day, and we can expect the momentum to keep going through election day."
Dallas County, Texas' second most populous county, was also in second place for turnout on Tuesday. About 90,000 voters either cast ballots in person or returned mail ballots there, according to the Chronicle's reporting.
Bexar County, Tarrant County, Travis County and El Paso all bested their turnout numbers from the first day of early voting in 2016.
Jill Biden was in Texas on Tuesday to help get out the vote.
"For the first time in a long time, winning Texas is possible," she said while speaking to a crowd in El Paso. "And if we win here, we are unstoppable."
Biden's visit also included stops in Houston and Dallas. Her appearance is being viewed as a sign that Democrats see Texas as being in play in the presidential competition for the first time since Jimmy Carter was elected president.
Early voting continues through Oct. 30. Election Day is Nov. 3.