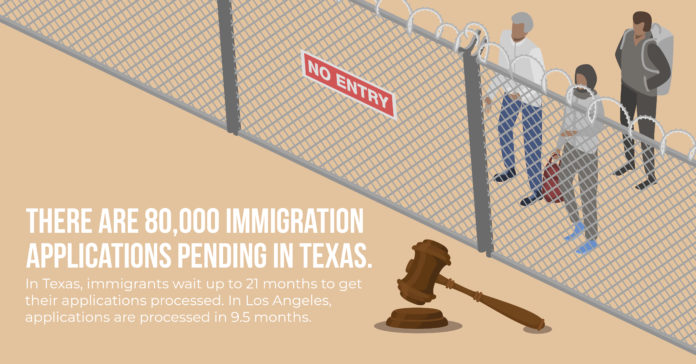 Immigration is a hot button political issue and has stayed one for the past several years. Many people point out that crackdowns on undocumented residency in America often affect the "right" way to become a full citizen.
This is especially contentious in Texas, a state with a large immigrant population and a rapidly-shifting political landscape.
Immigrant votes could be crucial to a growing Democratic Party in the state, raising questions about motives to deny people the option to become a citizen before the next election. Some see circumstantial evidence that certain groups and cities are being targeted with a massive backlog of unprocessed claims.
"In Houston, it has sped up a little bit from 2017 and 2018, particularly for married people," Kathryn Karam, an immigration attorney, said. She added that the wait time for citizenship applications has dropped to 16 months, "and sometimes that's before you can even inquire about your status."
In 2018, immigrants were waiting time up to 21 months for citizenship applications to be processed, according to a report in the Houston Chronicle. Despite the recent changes, Houston is still "extremely slow as opposed to other parts of the state," Karam said.
The slow pace of immigration applications has led some elected officials to think that the immigration backlog is intentional. Members of the Congressional Hispanic Caucus sent a letter to the White House describing the wait time as reaching "crisis levels."

The immigration backlog has also sparked action from some Republican lawmakers. Earlier this year, a group of Houston-area Republicans sent a to the U.S. Customs and Immigration Service.

In the missive, the GOP lawmakers pointed out that immigrants in Los Angeles and Queens, New York were only waiting 9.5 months and 10.5 months, respectively, for their applications to be processed.
The seemingly selective nature of the immigration backlog has led to accusations that the White House is trying to keep Texas red by denying citizenship to voters who might vote for Democrats. As theories go, it's not outrageous — particularly because it's at least partially true.
Given how close Texas elections have become, the idea of "thousands of new Democrats" could flip districts throughout the state. Fort Bend County is the case in point for the effects of immigration.
In the 2018 Congressional Election, Republican Pete Olson beat Democrat Sri Kulkarni to represent a large portion of Fort Bend County by just 14,000 votes. Earlier this year, Olson — a five-time incumbent — announced his decision to retire at the end of his term.
The margin of victory gets even smaller when it comes to State House races. In the 2018 race for Texas House District 28, Republican incumbent John Zerwas won reelection by 6,879 votes.
Fort Bend County is home to more than 32,000 immigrants who are eligible for citizenship. More than 9,000 of those immigrants are likely to become citizens, according to an analysis by the University of Southern California.
The immigration process is also being manipulated in order to show a preference for wealthy applicants. Earlier this year the White House unveiled the 'public charge' rule. This executive order would ban immigrants that didn't have health insurance — or wouldn't be able to get it within a few months — from entering the country.
The order is being challenged in court, but it was largely seen as a wealth test for potential new citizens. The issue of money is behind Hanah Hague's desire to become a citizen.
Hague has lived in Texas with her American husband for years. However, when her husband was laid off she learned just how disjointed the U.S. government's math can be.
When her husband was applying for financial assistance Hague learned that income from her part-time job would be counted by the government.
However, Hague didn't count as a member of the household. It was this lack of status that prevented Hague's husband from getting assistance.
"In a time of need we reached out for services that my taxes pay for," she said. "I've paid taxes in this country from the moment I got my green card. But they don't consider me a person."
Hague's non-status got under her skin. She vowed that she'd "be damned if I need help again and they don't count me."
"That's why I want my citizenship," she said. When Hague decided to apply for citizenship in April she was told that she wouldn't be naturalized until September 2020. She also found out that cost to apply had risen to more than $1,000.
"The fees have been doubled, and who can afford that?" Hague said. While the application fees haven't come down, there has been some movement on the application timeline. Hague's application could be processed as soon as January 2020.
Although Hague is happy about the accelerated timetable she does point out that her mother, who currently lives in Washington state, only had to wait only one month to be naturalized.
This is a possible indicator that battleground states like Texas are seeing an artificially created immigration backlog. Hague's delay could also be because of her status as the spouse of a citizen.
Karam has recently noticed a disturbing trend: immigration services selectively targeting people for marriage fraud investigations.
"In my experience, people from different African countries are being accused of marriage fraud at a much higher rate," Karam said. She illustrated her point with an anecdote about ICE showing up at a family's door.
"A Nigerian husband had ICE show up at [his] door," Karam said. She added that neither the husband nor his wife opened the door for the government agents because they didn't have a judicial warrant.
"Their attorney had to intervene to make ICE leave," Karam said. She added that another reason why Hague's case might be moving slower than expected is that ICE is combing over cases with "problems" that might get them denied.
"It's a big trend of immigration, looking at how people got their green card," Karam added. "I think there's pressure for additional scrutiny and that takes more time."
The immigration backlog and the long wait times can make it seem that the dice are loaded against people keen to vote in the upcoming election.
The nitpicking approach to paperwork can make it seem that, no matter how meticulously someone may have followed the rules, applicants are being set up for failure.
"Our system is incredibly complex and technical," Karam said. "People spend years in the United States trying to become citizens legally and it's hard. Anyone saying 'just get in line' has no idea what they are talking about."

Reform Austin incorrectly quoted former Republican Party of Texas Chair, Steve Munisteri on his views about immigration. Mr. Munisteri has expressed his support for the inclusion of a guest worker program and has previously said of the GOP Party that "this is of overriding importance to me is that we send out the message that we welcome immigration, that we are for legal immigration, [and] that we want diversity."