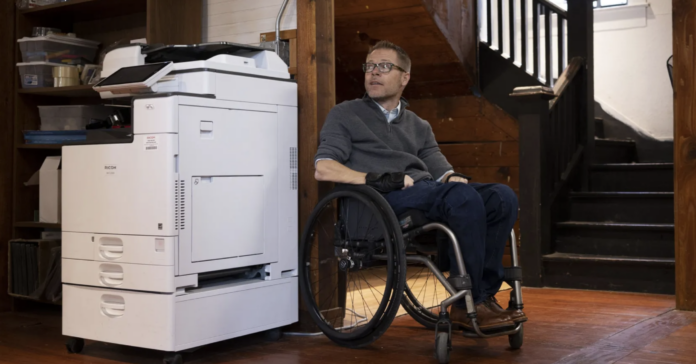 Votebeat is a nonprofit news organization reporting on voting access and election administration across the U.S. Sign up for our free newsletters here.

This article was originally published by Votebeat, a nonprofit news organization covering local election administration and voting access.
In an increasingly politically polarized Legislature, a set of voting laws aimed at improving ballot access for Texans with disabilities nonetheless passed this legislative session with bipartisan support.
The measures' success represents a major victory for voters with disabilities and voting rights advocates, who say they have struggled for years to get through to lawmakers on both sides of the aisle about the need for changes. Most recently, advocates also faced pushback from believers of election conspiracies and activists pushing for restrictive voting laws. At least 20 people testified publicly against one of the bills in April, most citing debunked claims about election technology.
The bills are on Gov. Greg Abbott's desk. He has not signaled whether he supports the measures.
"This was a nail-biter all the way to the end. But we're excited about all the people that will benefit from this. We're still hopeful that the governor will sign them," said Chase Bearden, deputy executive director of the Coalition of Texans with Disabilities, a nonprofit that has been advocating for these voting access policies since 2017. "This is a substantial change. Our next steps are now educating the election workers and election judges, counties, also letting all of the people know who are eligible and then explaining how it all works."
The bills stand in stark contrast to other legislation Republican lawmakers have pushed since the 2020 election that have made it more difficult for Texans to vote.
Under current law, people who vote by mail do so by marking their choices on a paper ballot. But some voters, such as those who are blind or paralyzed, require help from others to mark their mail ballots and read their answers back to them.
House Bill 3159, authored by state Rep. John Bucy, a Democrat, and state Rep. Jeff Leach, a Republican, would allow voters who need assistance casting ballots by mail to do so "privately and securely" by using an electronic system to make their choices. Bucy has filed similar proposals three times since taking office in 2019, all without success.
Senate Bill 477 improves in-person voting for those with disabilities or mobility problems. Written by state Sen. Judith Zaffirini, a Democrat, the bill will allow voters to skip the line at their polling location. The law now requires election workers to grant that type of access only when requested, and the change would allow these individuals to move to the front without permission.
Each polling location will also be required to designate a parking space to be used for curbside voting, in addition to the already required wheelchair-accessible parking space. Signage directing voters to these options would have to be placed at the entrance of the polling place, as well as public notices bearing information about the accommodations. The bill received support from the Republican-led Senate. Only two conservative senators voted against it: Bryan Hughes and Drew Springer, both known for supporting more restrictive voting measures.
The American with Disabilities Act had only been in place for a few years in the late '90s when a younger Bearden, the voting rights advocate who lives in Austin, became paralyzed, losing the use of his hands after a sports injury. When he turned 18, his parents took him to a polling place and helped him cast his first ballot. Back then, Travis County did not use voting machines, and his selections were made on a paper ballot. Knowing they were watching, "I ended up actually voting a straight ticket the way I thought [my parents] wanted me to vote," recalled Bearden, now 45.
That experience discouraged him from voting again for a few years.
Then in 2002, Congress passed the Help America Vote Act, which set aside money to address issues with outdated voting technology and voting access problems after the 2000 presidential election. Although all polling places were already required to comply with the American with Disabilities Act, HAVA helped make them more accessible to voters with disabilities by requiring at least one accessible voting machine at each polling place.
Depending on the type of machine, the law required them to be equipped with headphones or other devices to help voters with disabilities vote independently and confidentially. HAVA also required election workers to be trained on interacting with people with disabilities.
Bearden was in his late 20s when he voted again, using accessible voting machines that allowed him to cast a ballot independently, and has since worked to help others have that access.
But Bearden and other voting rights activists say that despite the improvements, racial and socioeconomic factors still play a role in whether those with disabilities have equal access to the polls. Some struggle to find transportation, while others have experienced mistreatment that discouraged them from returning.
In addition, when counties lack the resources, such as funding, and specific guidance on how to train and equip election workers to comply with the requirements, voters are affected, said Katya Ehresman, voting rights program manager at Common Cause Texas.
Ehresman said although what's included in SB 477 is already part of state and federal law, the bill will set a standard for compliance and specific requirements that election officials must follow on what accessibility should look like across the state.
Sometimes, Ehresman said, the law isn't written clearly enough to spell those things out, "and this is kind of a step forward in improving that."
In Texas, voting by mail can bring its own set of challenges for people with disabilities who may not have anyone to assist them to fill out their ballots. House Bill 3159 is meant to provide those voters with new and better options.
Kenneth Semien, 62, said he usually votes in person. But when the COVID-19 pandemic struck in East Texas' Jefferson County, where he lives, he requested a mail ballot. Semien, who is blind, said requesting his ballot online was fairly accessible and easy. But once he received his ballot, he realized he would not be able to fill it out without relying heavily on others.
Semien, who is the president at Beaumont Area Council of the Blind, said trusted friends have helped him cast his ballot but added, "Till this day, I don't know that they truly voted the way I wanted them to vote because I can't see that ballot."
"That's why we need this solution," he added. "It's key that we vote ourselves independently, privately, and securely."
Advocates say some who opposed an accessible ballot system for mail voting incorrectly believed that it was "a form of electronic voting" or that the system could be used to manipulate votes.
But in fact, some Texas counties are already using a similar system, one called Democracy Live, for military voters overseas. The bill expands the use of these options to voters with disabilities, Bucy said.
Voters who qualify to vote by mail in Texas include people who are 65 and older, people with a physical disability, those expecting to give birth three weeks before or after Election Day, people who are away from the county during early voting or on Election Day, and people who are in jail but otherwise eligible.
Those eligible voters will be able to request the use of the "absentee mail voting system" on their mail ballot applications. Election officials will then send the voters instructions on how to access their ballots electronically. Voters will then be required to print their ballot, sign it and mail it back to the elections office to be cast.
The specific rules and procedures to implement the bill, which will go into effect in the fall, will be set by the Texas secretary of state's election division. The electronic system to be used will also have to be certified by the office.
Other states that offer accessible ballots for voters with disabilities include Ohio, Virginia, New York, and Massachusetts.
The victory is especially significant during a time when conspiracy theories around elections have led to controversial and restrictive election legislation. The same people who opposed the bill are now pushing Abbott to veto it, though Bucy doesn't expect those calls to prevent the measure from becoming law.
Bucy credits the success of the bill this session to the work by voters with disabilities and the support from Leach across the aisle. "I'm happy that we got to the understanding that this is an independent, secure way for these individuals to cast the ballot," Bucy said. "And I think this is a great bill showing that Texas works best when we work together in a bipartisan way."
Natalia Contreras covers election administration and voting access for Votebeat in partnership with the Texas Tribune. Contact Natalia at ncontreras@votebeat.org.
Chalkbeat is a nonprofit news site covering educational change in public schools.

Votebeat is a nonprofit news organization covering local election integrity and voting access. Sign up for their newsletters here.