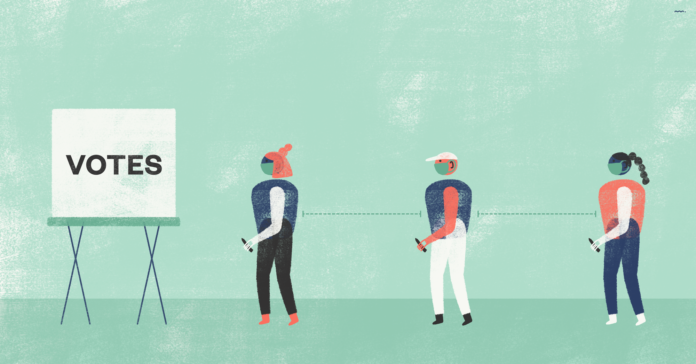 As the state continues to fight in court to stop expansion of vote-by-mail during the pandemic, Texas Secretary of State Ruth Hughs is out with guidance for safe in-person voting. The recommendations come in advance of the July primary runoff election.
The safety checklist includes maintaining at least 6 feet of separation from other individuals at the polling location and self-screening for symptoms of COVID-19. Voters who do have symptoms are requested to use curbside voting.
Voters are asked to bring their own pens from home to use for the ballot, and to wash their hands when entering the voting location and have hand sanitizer with them to use after casting their votes.
Face masks are recommended, but not required. Poll workers are to encourage voters to follow the Texas Department of State Health Services health protocols, and to encourage voters to wear face masks and to disinfect check-in tables, voting system equipment, ballot boxes, writing utensils, and doors leading into and out of the polling place.
Election workers will be screened for the coronavirus before entering the polling place. A polling place worker should wear a face covering while providing assistance to a voter and sanitize their hands after assisting them. The same is implied for curbside voting election workers.
You can expect markers on the floor 6 feet apart to help people social distance. Voting stations will also be positioned at least 6 feet apart.
Early voting for the July 14 primary runoff election begins June 29.
The last day to register to vote in the July election is June 15th. You can register online here.