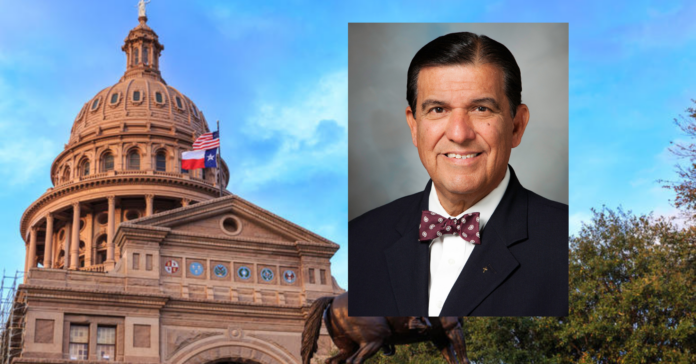 Senator Eddie Lucio Jr. (D-Brownsville) announced his retirement Thursday morning at a press conference in Harlingen. It was first reported by Scott Braddock of the Quorum Report.
Lucio has served in the Texas Senate since 1991 following two terms in the Texas House. He serves as the vice-chair of the powerful Senate Finance Committee and the Senate Education Committee.
The most conservative Democrat Senator has received criticism by members of his own party for too often joining Patrick and the Republicans on voting for private school vouchers and abortion bills, including authoring one during the special session to prohibit mail order abortion pills. His retirement creates a fourth open seat in the upper chamber.
Several people are already gauging interest in running for Senate District 27, which under the new redistricting plan remains based in Cameron County but stretches up to pick up half of Nueces County and all of San Patricio and Bee County. SD-27 has become less favorable for Democrats after redistricting going from a district which Biden won in 2020 by 15.7 points to one where he won by 4.6 points.
The Quorum Report covered at least three likely candidates. First is Morgan LaMantia, an attorney and daughter of Steve and Linda LaMantia, who has been making calls about a bid. Because of her family's decades-long roots in the Rio-Grande Valley and her ability to self-finance a campaign, an observer told Braddock she could clear the field of any opposition. Also considering would be Sara Stapleton-Barrera, who previously challenged Lucio in the Democratic primary and took him to a runoff in 2020. Lastly, there is state Rep. Alex Dominguez (D-Brownsville), who has been mulling a congressional bid but may also seek Lucio's seat. On Wednesday, he sent out an email to supporters attacking Sen. Lucio as a tool of Republicans.
Prior to this redistricting, it appeared the senior Lucio wanted to leave his seat for his son, state Rep. Eddie Lucio III (D-Brownsville). All indications from the younger Lucio is he is serious about focusing on his business and family as he said in his retirement announcement in October.
Over his three decade tenure at the Texas Legislature, Sen. Lucio advocated for the Rio Grande Valley. He cited his accomplishment of bringing a medical school to the Rio Grande Valley. His legislative focus were on pro-life issues and helping Texas schoolchildren, in particular special education students and those facing hunger.
Sen. Lucio says he is going to take the opportunity to spend time with his son and the rest of his family and joked about working at a pizza shop. He also announced he will be writing a book.