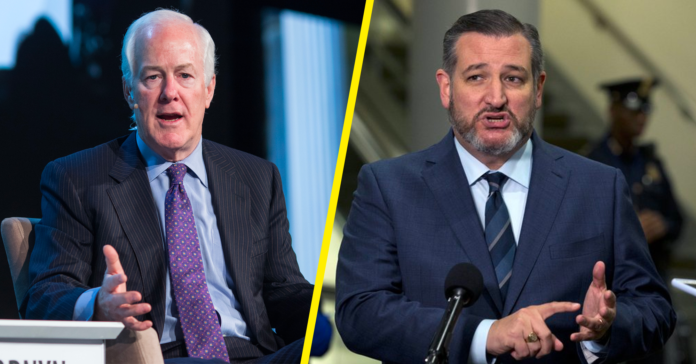 Predicting a bloodbath on Nov. 3 and offering comparisons to a troubled marriage, Texas Sens. John Cornyn (R-Houston) and Ted Cruz (R-Houston) are joining other Republicans in Washington in distancing themselves from President Donald Trump. Cruz isn't up for reelection this year, but Cornyn is, and there are signs that he is worried about possibly going down with a sinking ship.
In a story published over the weekend, the Fort Worth Star-Telegram quotes Cornyn as saying his relationship with Trump was "maybe like a lot of women who get married and think they're going to change their spouse, and that doesn't usually work out very well."
"I think what we found is that we're not going to change President Trump. He is who he is. You either love him or hate him, and there's not much in between," Cornyn said. "What I tried to do is not get into public confrontations and fights with him because, as I've observed, those usually don't end too well."
Cornyn claims he disagrees with Trump on budgeting, trade agreements and border security, but it is the senator's reticence to air those disagreements publicly that has him facing the toughest campaign of his political career.
"John Cornyn has marched in lock-step with this administration, regardless of the abhorrent rhetoric or damaging policies," the Texas Democratic Party noted in a news release over the weekend. "Only now that it's October, and he is facing an incredibly tough reelection has he decided to say different — and even then it is only in closed door meetings with editorial boards as an attempt to excuse his failures."
Cornyn's comments come as polls show Democratic challenger MJ Hegar is gaining on him. She outraised him during the last reporting period. Her campaign is also benefiting from an $8.6 million television ad buy by the Democrats' Senate Majority Political Action Committee.
Cruz, meanwhile, is predicting a bloodbath come Nov. 3.
"I think it could be a terrible election. I think we could lose the White House and both houses of Congress, that it could be a bloodbath of Watergate proportions," Cruz, Texas' junior senator, said in an interview on CNBC.
Cruz's and Cornyn's comments are not just one offs, but rather are part of growing concern among Republicans that Trump could take down many others with him.
Probably the harshest criticism came from Sen. Ben Sasse (R-Nebraska).
"The United States now regularly sells out our allies under his leadership," said Sasse last week in answering a question from a constituent about his support for Trump. "The way he treats women and spends like a drunken sailor. The ways I criticized President (Barack) Obama for that kind of spending, I've criticized President Trump for as well. He mocks evangelicals behind closed doors. His family has treated the presidency like a business opportunity. He's flirted with white supremacists."
Polling still shows Trump leading former Vice President Joe Biden by a couple of points in Texas. However, with two weeks to go, political analysts believe Biden might just be able to pull off a win in the Lone Star State and become the first Democrat to carry Texas since Jimmy Carter.