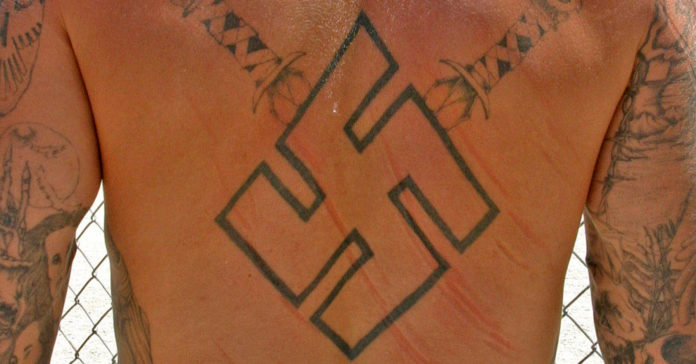 Half of the 24 members and associates of the white supremacist organization Aryan Circle indicted on charges of federal racketeering conspiracy, violent crimes in aid of racketeering, drug conspiracy, and unlawful firearms trafficking are from Texas. The indictments, which were announced in Texas, Mississippi and Kentucky last week, are part of a larger investigation targeting AC leadership. Among those charged are alleged current and former high-ranking leaders of the gang. The alleged criminal activity includes shootings, stabbings, beatings and "patch-burnings," which are violent attacks that result in removal of a victim's gang tattoo.
The 12 Texans charged are:
William Glenn Chunn, AKA "Big Head," 38
Michael Martin, AKA "Aryan Prodigy," AKA "AP," 37
Malachi David Wren, 51
Jeremy Chad Dennis, AKA "JD," 43
Rodney Holt, AKA "Turbo," 48
Bobby Dayle Boney, AKA "Bear," 50
Glynnwood Derrick, 46
Eric Hoccheim, 39
Breanna Beckley, 39
Jeremy Klintman, AKA "Shamrock," 37
Daniel Wade Holler, AKA "Knucklehead," 34
Jonathan Tucker Gober, AKA "Tucker," 36
The AC is a violent, race‑based organization that operates inside federal prisons across the country and outside prisons in Texas and other states. The AC was established in the mid‑1980s within the Texas state prison system after a period of turmoil within the Aryan Brotherhood of Texas resulted in rejected and ex-ABT members creating the AC. The AC was relatively small in comparison to other prison‑based gangs, but it grew in stature and influence within Texas prisons in the 1990s, largely through violent conflict with other gangs, white and nonwhite alike. In recent years, the AC's structure and influence expanded outside of prisons to rural and suburban areas in numerous states.
The Texas Department of Public Safety; the Texas Department of Criminal Justice; police Departments in Houston, Carrollton, Waller, Montgomery County, Travis County, Tarrant County and Smith County and the district attorneys from Liberty County, Harris County and Montgomery County are involved in the investigation. The cases are being prosecuted by the Assistant U.S. Attorney Christopher Rapp of the Eastern District of Texas, along with other U.S. attorney offices across the country.