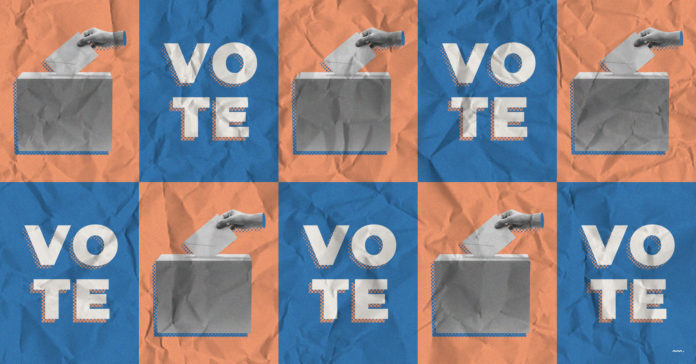 Voting is a conventional right granted and reserved to all United States citizens. Through participation in local, state and federal elections, Americans are able to form and shape the democratic framework under which they are governed. Despite the ongoing global pandemic caused by the onset of a novel coronavirus, the 2020 campaign season is already underway. Citizens will exercise their civic duty by voting in the upcoming United States elections, which are scheduled for Nov. 3.
Many national issues such as public health and safety, equality and a ravaged economy in the wake of the COVID-19 outbreak are at the forefront of widespread attention. The stakes are high across the country — all 435 seats in the U.S. House of Representatives and 35 of the 100 seats of the U.S. Senate are up for grabs. Additionally, the executive office of president of the United States will likely draw an influx of voters and boost overall turnout.
The great state of Texas is no exception. Over 16.4 million registered voters in all 254 counties across the Lone Star state will help elect a U.S. president, a U.S. Senator, 36 U.S. Representatives, a railroad commissioner, three members of the state Supreme Court, three members of the Court of Criminal Appeals, eight members of the State Board of Education, 16 state senators, all 150 state representatives, a Chief Justice of the Court of Appeals, as well as district and county judges, attorneys, sheriffs, tax assessors and commissioners.
Unfortunately, the high anticipation of Texas voters is marred by confusion due to public health recommendations and executive orders outlining key changes to electoral processes as a response to COVID-19. On Aug. 26, Texas Gov. Greg Abbott published a letter stating that the show must go on — reaffirming that the 2020 election will take place as scheduled. As such, a few things are certain: all voters must cast their ballots through mail or in-person by Nov. 3.
To warrant smooth operations on election day, Texas was granted $24.5 million from the Election Assistance Commission under the CARES Act that helps states ensure democratic processes in the wake of the COVID-19 pandemic. In total, Texas allocated $29.5 million to fund local, state and federal elections this year.
The federal grants were then sub-allocated to Texas counties and used for facilitating various election activities such as the printing, tracking and scanning of ballots; training and hiring of additional election polling center staff; and the purchase of additional medical and sanitizing equipment for polling centers.
While the election will proceed as planned with additional implementation of health and safety measures, there are a few things that each Texas voter should know in the lead-up to the November election to ensure proper compliance with the Texas Election Code.
Identification
The Texas Secretary of State's website, VoteTexas.org, outlines the procedures and subjectivities related to elections in the state. Importantly, voting in Texas consists of casting a paper ballot, utilizing an optical scan voting machine or a direct record electronic machine.
In order to receive access to any ballot, all voters must show a valid form of identification. In Texas, there are seven forms of identification that are acceptable at the polls:
· Texas Driver's License
· Texas Election ID Certificate
· Texas Personal ID Card
· Texas Handgun License
· U.S. Citizenship Certificate with Photo
· U.S. Military ID Card with Photo
· U.S. Passport Book or Card
If voters are unable to provide or do not possess one of these forms of identification, there is an option to file a Reasonable Impediment Declaration exemption, which requires a supporting form of identification, such as a domestic birth certificate. Voters who wish to file an exemption are encouraged to do so as early as possible to ensure timely reception of the application.
Early and Mail-in Voting
Voting through the submission of a mail-in ballot has become a highly politicized issue throughout this election season. The controversy surrounding voting by mail is augmented by its appeal to those who do not want to risk exposure to COVID-19 at the polls on Election Day. The popularity of mail-in voting will likely result in high volumes of courier mail around Election Day, which could cause service delays and potential rejections.
As stipulated in the Texas Election Code, access to early or mail-in ballots is reserved exclusively to voters over the age of 65, those with disabilities, those incarcerated and those voters who will be outside their county of residence throughout the early voting period and on Election Day.
Voters who meet one of these requirements can request an electronic application or have one sent to their residence, which in turn requires submission by Oct. 23. Once the ballot is received, mail-in voters have to ensure its delivery by Election Day, Nov. 3. Conversely, those who do not meet the aforementioned requirements are obliged to provide a legitimate reason to obtain access to a mail-in ballot. It is important to note that there are ongoing judicial cases at the state and federal levels that are challenging the constitutionality of this state law, but the outcome may not come before the November election.
Another controversial aspect of early or mail-in voting in Texas regards what constitutes a disability for voters. Currently, the definition of disability is relatively vague as used in the Texas Election Code. Concerning the legality of acknowledging those who have COVID-19 or face serious risk of as a disability, a May 1 proclamation by the Texas Attorney General Ken Paxton addressed COVID-19 and the election:
"Based on the plain language of the relevant statutory text, fear of contracting COVID-19 unaccompanied by a qualifying sickness or physical condition does not constitute a disability under the Texas Election Code for purposes of receiving a ballot by mail."
Subsequently, a challenge filed to the Texas Supreme Court resulted in a recent court ruling that sides with the attorney general, reaffirming that a COVID-19 diagnosis or fear of contracting COVID-19 does not qualify as a legitimate disability and cannot be used to receive a mail-in ballot. However, the ongoing case at the federal level on the law's infringement on due process and equal protection clauses of the First, Fourteenth and Fifteenth Amendment of the U.S. Constitution as well as the U.S. Voting Rights Act.
Texas voters are not permitted to physically submit early mail-in ballots at poll centers on Election Day, but election officials are encouraging those who qualify for mail-in voting to drop their ballots at their respective county's election office. In July, Abbott signed an executive order extending Texas' two-week window for early voting and drop-off. Now voters who qualify for early voting can visit their county polling station anytime from Oct. 13-30.
To ensure delivery and acceptance of mail-in ballots, voters are advised to treat the ballot and envelopes with caution, avoiding smudges, tears or marks which could render a mail-in vote invalid. Each election, many ballots are rejected or unable to be counted due to mistakes, missing signatures or untimely postal deliveries.
Election Day
As aforementioned, the high stakes will likely result in high turnout on Election Day. Depending on the county, there are often long lines and wait times. This could be strongly affected by the reduction of polling centers due to public health recommendations by the Centers for Disease Control and Prevention. For example, there were 200 fewer polling places in the 2020 primary elections in Dallas County largely due to the inability to properly implement social distancing measures in some venues. Another example is Collin County, which decreased its polling locations by 17 in order to safeguard that the machines and voting booths were six feet apart.
In Texas, there is no statewide requirement to wear personal protective equipment, such as masks or gloves, which has the potential to affect voter turnout. There is a high probability that election staff and voters alike will be strongly encouraged to wear masks and appropriate equipment at polling centers, in addition to engaging in efficient social distancing. However, there will be no temperature checks or questioning about a voter's health at the polls.
For voters, the Texas Election Code grants another option that can further eliminate the risks of COVID-19. All polling locations are required to offer curbside voting assistance, which was introduced in the primary elections around the state. Curbside voting could be a viable option for those who do not qualify for early or mail-in voting and want to take extra caution to prevent the spread of COVID-19. Soliciting a curbside vote does not require a justification.
To address the issue of voter turnout, some counties in the state will roll out technological solutions to better accommodate voters and facilitate smooth poll operations. One example is Travis County, which will utilize an integrated feature in Google Maps dedicated to informing citizens about wait times at different polling stations around the county.
Without a doubt, there will be an election on Nov. 3. Voters in Texas will convene to cast their votes for a variety of local, state and federal offices. In federal elections, Texas has historically demonstrated its status as a key state due to significant wins by major political parties. Besides California, Texas has more members in the U.S. House of Representatives than every other state. Additionally, the Lone Star State has 38 electoral votes, which have the potential to affect the outcome of the U.S. presidential election.
Even though the ongoing global pandemic will be an obstacle for the feasibility of the 2020 election, the stakes remain high. The uncertainties regarding Texas voting processes, election officials' ability to enforce COVID-19 health recommendations and the volumes of early and election day votes will prevail over the next weeks until election day. However, COVID-19 cannot stop democratic processes and the election. The local, state and federal government depend on Texans registering to vote, casting ballots and engaging in their civic duty.
Brett Cain is a trial lawyer, the owner of the Cain Firm, and a partner of The Law Center.