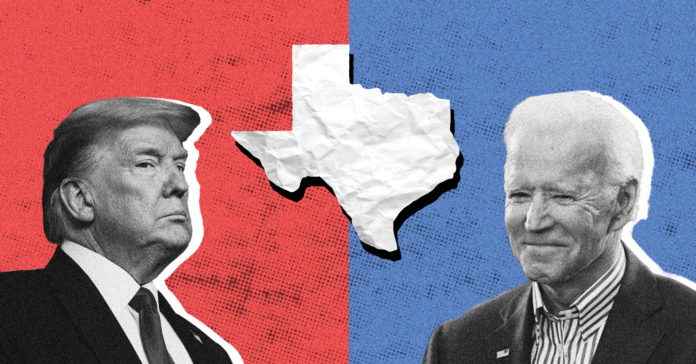 Several months ago, veteran political consultant L. Pierre DuBois was working with the campaign of Jim Wright, an unknown Republican candidate for Texas Railroad Commissioner who defeated a well-financed incumbent with the support of top Texas leaders.
Wright pulled off a stunning upset of incumbent Ryan Sitton in the Republican primary in March, despite having raised less than $13,000 in the campaign compared with the $2.2 million Sitton had on hand along with the endorsement of Gov. Greg Abbott, U.S. Sens. Ted Cruz and John Cornyn and others. Wright will face Democrat Chrysta Castaneda in November for the seat on the commission that regulates oil and gas and has long been held by Republicans.
In June, DuBois weighed an opportunity to jump into the campaign of a competitive, high-profile Texas Congressional race. Instead, he pulled off an extraordinary upset of his own.
He switched parties.
The Republican Party no longer reflected his personal values, had gravitated too far to the right and became a "cult of personality" of President Donald Trump and his surrogates, DuBois said in an interview.
"The Republican Party is tearing apart the fabric of this nation, and I will no longer stand by in support of its ideology or its candidates," DuBois said in a statement on social media. "I grew up supporting conservatives, and my entire career has been spent working Republican politics – from interning in a Senate office to my most recent position as a campaign manager for a Republican statewide nominee in Texas."
"But it has been apparent to me for some time that my personal political beliefs do not align with what the Republican Party represents," he said. "And I can no longer go on in good conscience associating myself with an agenda that is callous, anti-democratic and unpatriotic."
Instead, DuBois said, he is working with the Democratic Congressional Campaign Committee and the Texas Democratic Party to help Democrats win competitive Congressional seats in Texas.
DuBois is hardly alone as a disaffected Republican who sees it as imperative to defeat Trump and his Republican defenders and enablers in Texas and across the country.
Speaking Up
Just before former Vice President Joe Biden accepted the Democratic nomination, a group more than 70 former national security officials who served during the administrations of Trump and past Republican presidential administrations, along with some Republican members of Congress, signed a statement supporting Biden as the next president.
Among the 10 reasons they cited for choosing to support the Democrat over their own party's candidate is because Trump is "unfit to lead in a national crisis," has "undermined the rule of law" and "aligned himself "with dictators and "failed to stand up for American values."
The list of influential Republican and independent leaders who have endorsed Biden includes former New Jersey Governor and EPA Director Christine Whitman, former Massachusetts Gov. Bill Weld, former Michigan Gov. Rick Snyder and former Ohio Gov. John Kasich, who appeared at the Democratic National Convention in addition to former Secretary of State Colin Powell.
Former members of Congress and the Senate, as well as former Trump advisers and former Republican attorneys general from various states have also endorsed Biden.
And one of Texas' leading citizens, former President George W. Bush, isn't supporting Trump either, according to reports.
A group of former Bush advisers and others who served under Republican presidents as well as governors and members of Congress have formed a new super PAC, 43 Alumni for Biden, to support Biden's election.
Other Republican-led initiatives to support Biden include the Lincoln Project, formed by a group of Republican strategists and consultants, who have created a series of videos and ads that showcase the damage that the Trump administration has caused ordinary Americans.
Another group, Republican Voters Against Trump, is endeavoring to tell the stories of individual disenfranchised Republican voters, including Texans.
"Despite the president's claims that he has the total support of the party, there are millions of voters who used to be reliable Republicans but are disgusted by the Trump administration," the group proclaims on its website.
Whether the efforts will make a difference in the outcome of the election remains to be seen, especially when considering that only about one in 10 registered voters, 9 percent, changed their party affiliation in the past two years.
As the election grows closer, Biden continues to lead Trump nationally and in six swing states, where his advantage hasn't changed in two weeks.
In Texas, the latest polls show Trump and Biden just about even and Democrat M.J. Hegar trailing U.S. Sen. John Cornyn by 4 points, a narrower margin than polls showed a week ago.
DuBois' Outlook
As for DuBois, he said he would like to see Democratic victories up and down the ballot. But, realistically, he knows that probably won't happen for another two to four years.
Republicans acknowledge that they face a demographic change that could make them "a dead party in 10 years," he said.
DuBois recalled a Republican operative's comparison of party politics going forward to a player on the free-throw line of a basketball game.
"Democrats have 10 shots to make 5 while Republicans have 7 shots to make 5," DuBois said.