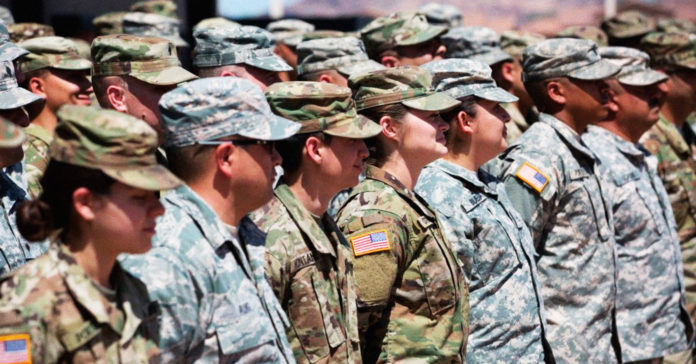 Governor Greg Abbott tweeted on Monday that the idea of vetting National Guard members, particularly Texans, who will be a part of President-Elect Joe Biden's inauguration is "offensive."
"This is the most offensive thing I've ever heard," reads the tweet. "No one should ever question the loyalty or professionalism of the Texas National Guard… I authorized more than 1,000 to go to DC. I'll never do it again if they are disrespected like this."
Unfortunately, due to recent actions in Washington D.C. such scrutiny is necessary.
It's an unfortunate fact that white nationalists and other right-wing extremists have been actively infiltrating the American armed forces for years. The FBI and the military itself have long acknowledged that aspects of service appeal to domestic terrorists. In December, the Department of Defense released a plan that included weeding out members of military who openly support extremist causes.
Of the more than a hundred people who were arrested for their participation in the insurrection attempt at the U.S. Capitol on January 6, at least six have been shown to be veterans. These include Ashli Babbitt, a retired Air Force veteran that was shot and killed by Capitol Police when she tried to crawl through a barrier they had erected to protect members of Congress and Vice President Mike Pence. At least one Texas veteran has been arrested for participating in the attempted coup, Lieutenant Colonel Larry Rendall Brock, Jr. of the Air Force. He has been accused of planning to take hostages and possibly execute members of the federal government.
Successful fascist takeovers often have a military component. Both Benito Mussolini's March on Rome and Adolf Hitler's Beer Hall Putsch were accomplished with the backing of hardened veterans of the Great War who flocked to their causes.
A large-scale military coup at the inauguration is highly unlikely. The Joint Chiefs of Staff, including Chief of the National Guard Bureau Army Gen. Daniel R. Hokanson, released an unprecedented letter shortly after the attack on the Capitol confirming their support of the peaceful transition of power.
However, that doesn't mean that every member can be trusted, and the Pentagon is actively trying to weed out potentially dangerous people masquerading as patriots in the ranks. Two members of the National Guard have already been removed from duty because of their ties to extremist groups, though no details as to the nature of their connection have been released. The National Guard refused to release details, citing an ongoing investigation.
The Capitol is currently hosting 25,000 Guards for security during the inauguration. They are maintaining a very strict safe zone that has effectively shut down the National Mall to civilians.
It's admirable that Abbott wants to defend the integrity of the Texas National Guard. The vast majority of those who serve in it do so with honor and patriotism. That said, there is no denying that bad elements do creep in and must be prevented from causing harm, even if that harm is standing by while more aggressive elements do the actual damage.
"I've run into a couple of people who lean more on the fascist side of things and a few Three Percenter (an antigovernment militia group) types as well," one active member of the Texas Guard told us on the condition of anonymity.
"I think the threat is more likely to be inaction as opposed to taking negative action, if that makes sense. Something akin to the D.C. cops just letting the rioters take over things on January 6. I think that most Guardsmen know better than to actively join an insurrection, but I'm an optimist.
"I'm glad they're doing a vetting process for the mission."