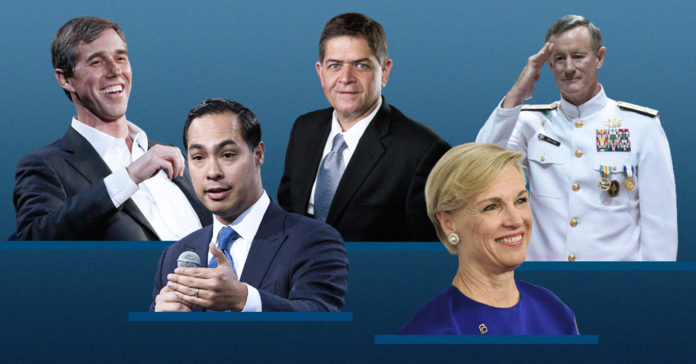 Despite unwavering enthusiasm, record-setting fund-raising and enormous turnout efforts, Texas Democrats couldn't pull presidential nominee Joe Biden or many of their other candidates over the line in the general election.
But that doesn't mean the yeoman work of Texas Democratic Party leaders and grassroots organizations will go unrewarded.
With President Donald Trump unwilling to concede, mounting legal challenges of election results and blocking a transition of power, President-elect Biden is moving forward with selecting his leadership team, which could include some Texans.
Prognosticators have already come up with lists of potential Cabinet secretaries, including some former top-level leaders from the Obama administration and other party loyalists.
Texas Democratic leaders are hopeful that the Lone Star State will be represented in Cabinet or administrative advisor roles.
Political experts say it would be a wise political move for Biden to tap some Texans for his administration.
"If the Biden administration cares about Texas politically, they must put some Texans in high profile positions," said Brandon J. Rottinghaus, professor and Pauline Yelderman Endowed Chair of political science at the University of Houston. "Texas looks like America's future and governing Texas will be a lot like governing the United States.
"The Biden team has dozens of good options from Texas who have real governing experience in a diversifying state, a massive economy and a balance of rural, suburban and urban issues," Rottinghaus said.
Leading choices include former presidential candidates Beto O'Rourke and Julian Castro. U.S. Rep. Filemon Vela (D-Brownsville) is also gaining traction for his sharp rebuke of Trump's border wall and his early support of Biden over O'Rourke and Castro.
Politico released a list of potential picks for Cabinet posts that does not include any Texans while a list of contenders compiled by The Washington Post includes William McRaven, a retired four-star Navy admiral who served as the commander of the Special Operations Command that oversaw the raid that killed Osama bin Laden in 2011.
McRaven, who lived in San Antonio during his youth, attended the University of Texas at Austin and then served as chancellor of the UT System from 2015 to 2018.
Other Texans in possible contention include Cecile Richards, daughter of former Texas Gov. Ann Richards, and a long-time Democratic activist who served as president of the Planned Parenthood Federation of American and president of Planned Parenthood Action Fund.
Richards' daughter Lily Adams, a former top aide to Vice President-elect Kamala Harris, could be in line for an aide position in the White House.
Texans have held prominent roles in the administrations of recent presidents, including Trump, Barack Obama and George W. Bush.
Trump chose former Texas Gov. Rick Perry as Secretary of Energy and former ExxonMobil CEO Rex Tillerson as Secretary of State. Tillerson, who clashed with Trump and reportedly made a derogatory statement about the president, was fired in a tweet in 2018.
Perry, who ran for president in 2012 and 2016, resigned from the Trump administration in 2019.
High-profile Texans who served in the Obama administration include Castro, a former mayor of San Antonio, who served as Secretary of Housing and Urban Development from 2014 to 2017. Ron Kirk, a former mayor of Dallas, served as U.S. Trade Representative from 2009 to 2013.
Bush tapped several Texans and those with Texas ties for his administration, including former Vice President Dick Cheney, who served as Secretary of Defense under Bush's father, President George H.W. Bush, and as a former CEO of Texas-based Halliburton, an oilfield services company. Karen Hughes, with deep Texas ties, served as Under Secretary of Sate for Public Diplomacy in the Department of State and as a counselor to Bush during his administration.
Other Texans who could be in the mix for roles in the Biden administration might include former Texas State Sen. Wendy Davis or U.S. Rep. Henry Cuellar (D-Laredo), according to prognosticators.
"Biden didn't make a big play for Texas," said Matt Angle, director of the Lone Star Project, a Democratic research and political support organization. "But that wasn't Texas' fault. It is a very big and expensive place to compete.
"But given the state's size and importance, he should pick some Texans for his administration," Angle said.
Rottinghaus agrees: "Putting some Texans in high profile positions is a cheap but effective way to tell Texas Democrats that Biden cares about Texas politically."