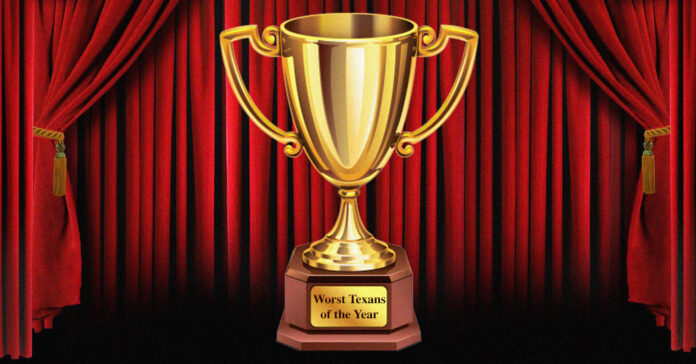 Last Tuesday, Texas Monthly published an opinion piece where both Texas Gov. Greg Abbott and U.S. Sen. Ted Cruz snatched the title for "Worst Texans" of the year.
Abbott was awarded the "2022 Bum Steer Award" and Cruz was the first runner-up for the category.

According to the piece, Abbott became Governor only because it was "his turn." After more than 20 years in public life and 12 years as Texas Attorney General, it was the only logical step.
Six years later, Texans still don't know what Abbott wants to accomplish.
"He inherited education and health-care and foster-care systems that were among the worst in the nation," Texas Monthly said. "There was plenty to do, and he had the means to do it: a healthy legislative majority and billions of dollars to play with."

However Abbott seems to care only about one thing: maintaining his seat as Governor. That was clear last winter when Texas, the energy capital of America, couldn't even keep the lights on.
Texas Monthly also criticized Abbott's handling of the COVID-19 Pandemic. They stated his approach was "comically erratic," first he ordered a lock down, then he freed Texans from "imprisonment" by his own lockdown. "He gave orders preventing local leaders from enacting their own coronavirus protections but included fine print to allow them to do exactly that," the magazine wrote.

Cruz won his spot as runner-up within the first 6 days of January, by legitimizing false claims about a stolen election, violating the very Constitution that he frequently claims to value by trying to help an incumbent president stay in power.
Six week later, he escaped a freezing Texas during Februaury's deadly winter storm to go relax at a beach in Cancún, later on blaming the trip on his daughters.

Since then Cruz has continued to joke about his trip to Cancún and then to win some attention attacked Sesame Street's Big Bird for encouraging children to get vaccinated.
"Maybe an award will cheer him up: Ted, you're a runner-up for Bum Steer of the Year," Texas Monthly.