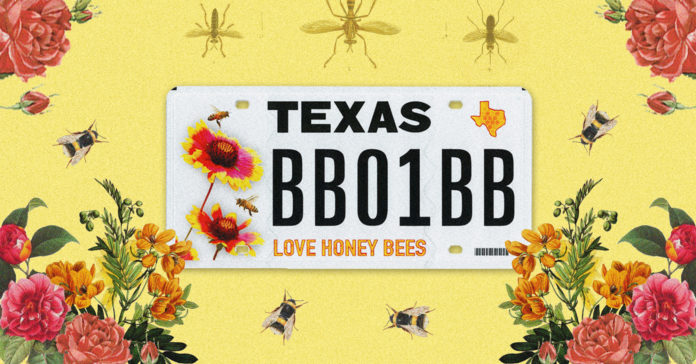 If you love Texas honey and the bees that make it, you can now show your support for them with a new Texas specialty license plate that says "Love Honey Bees."
A portion of each $30 plate fee, $22, goes to the Texas Department of Agriculture, which will put the funds into grants to the Texas Honey Bee Education Association for charitable activities such as youth and beekeeper education programs. The cost is in addition to regular registration fees. The plates can be used on cars, trucks, trailers, RVs and motorcycles.
"We're pleased to be able to offer a way for Texans to show their care and concern for honey bees," said Roger Farr, chairman of the THBEA board. "We hope honeybee loving Texans will buy the plate and bring visibility to much needed honey bee research and education efforts for this very important insect." 
The license plates have received praise from beekeepers like John Swan in Austin, who told KXAN that bees are responsible for all types of food we eat.
"It doesn't matter necessarily if you're a pure carnivore or if you're a vegan. They're responsible for the food chain," he said.
To purchase a Love Honey Bees license plate, visit www.txdmv.gov/motorists/license-plates.