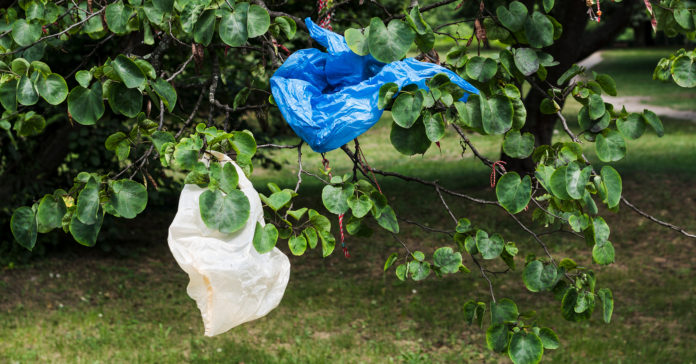 It doesn't take 20/20 "environmental" vision to see that the Texas landscape is choking on plastic. Just look left-to-right while driving, and you're bound to see a plethora of items derived from cellulose, coal, crude oil and salt.
What is most visible, however, are the ubiquitous single-use plastic bags drifting with the breeze and casually sticking to the prickly branches of mesquite trees. It must happen, hundreds, or even thousands, of times per day.
Nearly a decade ago, several municipalities around the state enacted ordinances banning single-use plastic bags or assessing a tax on their use. But a subsequent Texas Supreme Court ruling essentially put an end to the bag bans declaring them illegal.
The absence of bans has seemingly brought environmental stress and ecological distortion to the state.
"I will say, at our preserve, we deal with a lot of plastic pollution that enters our property during storm events," wrote Eric Paulus, the director of Ecology Action of Texas, in an email to Reform Austin.
The organization, which advocates for zero waste awareness in Austin and surrounding areas, maintains the 10-acre Circle Aces preserve.
"We are at the bottom of a 900-acre urban watershed and see a huge volume of trash make its way through the watershed to our wetland," Paulus said. "There was a noticeable decline in plastic bags for a few years during the ban, and we are definitely seeing them again now that the ban has been lifted."
Cities such as Corpus Christi (North Padre Island), Fort Stockton, Kermit, Austin, Laredo, El Paso and Brownsville all introduced bans or a tax while Gov. Greg Abbott was the state attorney general. When he became governor, the Texas Supreme Court rendered its decision on bag bans, which was vigorously enforced by current Texas Attorney General Ken Paxton.
Plastic bags are a serious issue for the people residing near the beaches and waterways in the Corpus Christi area, said Amy Gazin, senior public information officer for the City of Corpus Christi, in an email.
"They end up in the ocean and are mistaken by marine wildlife for food with devastating consequences," she said. "In June 2016, the Island Strategic Action Committee which represents North Padre Island residents approved a resolution prohibiting Padre Island businesses from using the bags, the only area in Corpus Christi that did so."
She said the ban is still in effect, but enforcing it is problematic, so businesses on the island continue to use the plastic bags.
Brownsville had instituted a $1 fee for unlimited single-use bags at the point-of-sale between 2011-2017, until Paxton filed suit. During that time, the bag tax produced more than $4 million for the city and was used to purchase equipment such as sanitation trucks, the Monitor reported.
A data map on PlasticBagLaws.org shows that as of Sept. 14, 2020, 14 states, including Texas, have preemption on plastic bag laws, and eight states, led by California and New York, have statewide bans on plastic bags.
The Texas state ban on plastic bag bans was the result of a case between the Laredo Merchants Association and the City of Laredo. The Supreme Court ruled that Laredo's ban conflicted with a 1993 solid-waste disposal state statute interpreting it as a violation of the law.
The waste disposal law has been utilized in court to preempt bag laws and a roundabout way to implement a preemption of the local bag bans, said Jennie Romer, legal associate for the Surfrider Foundation's Plastic Pollution Initiative, in a phone interview.
The American Legislative Exchange Council, an organization of state legislators advocating for limited government and federalism, is pushing for legislation that eliminates or prevents bans, Romer said. Adding that the plastic industry spends a lot of time and effort on preemption laws as well as money on public relations and lobbying to influence public opinion. "The plastics industry is a huge foe, and they definitely are very active in Texas."
She further pointed out that where bans have been adopted, they have been very effective and a gateway to legislation regulating other types of plastic.
"If you're in a place where that action is preempted, then it's a lot harder to make progress."
For now, in Texas, some form of creative recycling seems to be the best alternative to single-use plastic bag bans.
Corpus Christi's solid waste department educates city residents on the value and significance of recycling, Gazin said. Currently, Corpus Christi does not recycle plastic bags because they tend to become entangled in machinery.
"A lot of time is spent discussing how plastic bags can be reused so they don't immediately end up in our local landfill," Gazin said. "We impress upon young and old alike that throwing plastic bags into their green trash cart is the best option for protecting our marine wildlife and our local environment. In short, if the bags are buried in our local landfill, they are less likely to end up being mistaken as food by a hungry turtle."